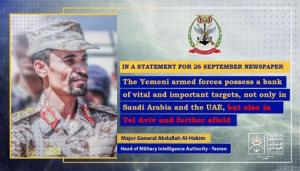 According to a report by the Jamestown Foundation,49 the Houthis competitive advantage in regards to MI is its extensive human intelligence (HUMINT) network. MI's pool of informants apparently extends across Yemen and into southern Saudi Arabia, and they are motivated by a variety of factors including ideological solidarity and material gain. This provides Houthi leaders with access to valuable information regarding troop movements, arms, and supplies.
Finally, the Houthis established an internal security organization entitled "Zainabiyat" which is comprised of women and intended to target women. According the UN Panel of experts, the responsibilities of the Zainabiyat include "searching women and houses, indoctrinating women and maintaining order in female prisons." Beyond their official responsibilities, members of the Zainabiyat have allegedly "aided and abetted the commission of rape by holding down women and engaged in torture of women, including during interrogations." The women recruited to this organization are primarily from sada families. Those women targeted by the Zainabiyat include politically engaged dissenters or protestors who are then accused of trumped up charges of prostitution, treason, spying etc.50
Given the multiple factions within the Houthi organization as well as the movement's opacity, it is difficult to distill any clear security concept. Presumably, like all authoritarian regimes, the Houthis prioritize regime survival above all else. Second to that, the organization prioritizes its battlefield success in the Yemeni civil war – which has both domestic and regional components. State-building, economic prosperity, and other issues of governance appear to be low priorities, with the exception of establishing mechanisms for domestic repression and indoctrination in order to ensure the population's obedience and a steady supply of fighters for the war effort.  
Nevertheless, it is still possible to understand certain aspects of the Houthi way of war. In order to ensure a steady supply of recruits, the Houthis enforce conscription quotas on the regions under its control. A 2019 report on Yemen estimated the Houthi military at 180,000-200,000 fighters with access to a varied range of weaponry.51 In addition, the educational curriculum instituted by Houthi Education Minister and Abdulmalik's half-brother Yahia al-Houthi works to radicalize the youth under their control, and facilitate the recruitment of child soldiers (under the age of 18) of which they have allegedly already drafted between 10,000-30,000.52
Michael Knight's 2018 article "The Houthi War Machine: From Guerilla War to State Capture"53 also provides some valuable insights. To mitigate the impact of coalition air superiority, the Houthis operate under what Knights refers to as a "very low force-to-space ratio." He explains:
In defense of a trench complex, a single fighter will be expected to move from position to position, firing a machine-gun in one, a sniper rifle in another, and a B-10 recoilless rifle, medium mortar, or even an anti-tank guided missile (ATGM) in a third. Each fighter might have a one- to three-kilometer front to defend, and will be expected to defend the area successfully or die trying. In a 15-kilometer sector, there will thus be a thin outpost screen of highly determined and quite skilled marksmen…Behind this screen will be a pool of substitutes able to move forward quickly, not carrying weapons, to replace frontline fighters.54
Another approach to mitigate their enemies' aerial superiority, is the Houthis' use of facilities which cannot legally be targeted as command and logistics centers, including hospitals and other critical civilian infrastructure.
According to the Jamestown Foundation report on the Houthi military, the organizational culture places considerable weight on bottom-up learning. This allows for quick adaptation to battlefield conditions, which is an advantageous quality not present in the military culture of most Arab states.55 In addition, contrasting with the political leadership which is centered around the al-Houthi family, the Houthi armed forces are reported to be fairly meritocratic and "open to those who possess the skills and talent that the group and their allies require."56
The nearly continuous fighting since 2004 has witnessed a dramatic improvement in Houthi military capabilities which is attributable to three key factors. First, the group has gained considerable combat experience after fighting for over 13 years (2004-2010, 2014-Present). Second, the Houthi partnership with Ali Abdullah Saleh and his loyalists in the military from 2014-1757 meant that the Houthi tribal-based militia was "grafted on to, and allied with, a professionally trained military from elements of the former Yemeni Armed Forces."58 Presumably this led to the diffusion of professional expertise among the paramilitary forces. Third, according to a 2018 UN report, the end of the alliance with Saleh provided the Houthis an impetus to look for additional partners so as to offset the collapse of the Houthi-Saleh partnership; Iran stepped into that role by expanding its training and equipment of Houthi forces.
The technological and tactical inferiority of the Houthis when compared with their GOY and Saudi adversaries was considerable during the Saada Wars from 2004-2010. According to a 2010 RAND Corporation report on the subject, the Houthis' "regional units do not currently have the capacity to execute coordinated operations"59 and their weaponry consisted of "assault rifles, medium machine guns, and RPGs with diverse munitions…12.7-mm heavy machine guns, 90-mm recoilless rifles, and light (23-mm) antiaircraft cannons converted for antipersonnel or antivehicle use."60 In contrast, since 2017 the Houthis have been supplied by Iran (and may even be developing the capacity to produce locally) far more sophisticated weapons than the RPGs and machine guns they had only one decade ago – including advanced attack UAVs and cruise missiles.61 The group has also demonstrated the capacity to integrate this precision weaponry into coordinated attacks on adversaries based on real-time intelligence, as was evident in their assassination of Yemen's Chief of Military Intelligence62 and near-misses targeting the GOY's chief of staff of the armed forces63 and the entire GOY Cabinet.64
In some cases, Iran's weapon shipments to the Houthis have been seized before delivery65 which provides ample evidence that Houthi claims of independent, domestic production are overblown.  At the same time, several reports have been published recently indicating significant evidence of a nascent Houthi UAV industry.66
Yet, despite their impressive leaps in terms of weaponry and organizational capability, the Houthis are significantly less capable in the offensive realm than they are in the defensive realm. This is evident in their stalling efforts to conquer Marib which necessitated that they take enemy defensive positions while under attack from enemy airpower.