Iran Spies on Swedish Companies for Nuclear Program: Swedes Continue Trading
In its latest report the Swedish Security Service revealed that Iran is investing "large sums" in "conduct[ing] industrial espionage, which is primarily aimed at Swedish high-tech industry and Swedish products that can be used in nuclear weapons programs."  The Iranians are "acting more offensively than before," and their spy operations are taking place over many years, "even decades." Yet major global Swedish companies, including firms that makes components used for the nuclear industry, still appear to be doing business with and in Iran.
As the name suggests, SKF ("Swedish Ball Bearing Factory") is known for making high-precision ball and roller bearings -- crucial components in nuclear power plants. SKF's own in-house magazine confirms that SKF products are used in the nuclear sector, such as the "stainless-steel SKF roller screws" at the Belgian Nuclear Research Centre. (It has also advocated for nuclear power as a transitional post-fossil fuel energy source).
Meanwhile, SKF lists an Iran Branch operating as SKF Eurotrade AB, located on Tehran's Valiasr Street ("the longest street in the Middle East"). The Iranian firm Rayan Bearing prominently advertises SKF on its website, urging customers to "optimize your rotating machinery design with world-class quality and reliability." And a Google Maps search reveals several SKF locations in Tehran, like this "authorized distributor" store: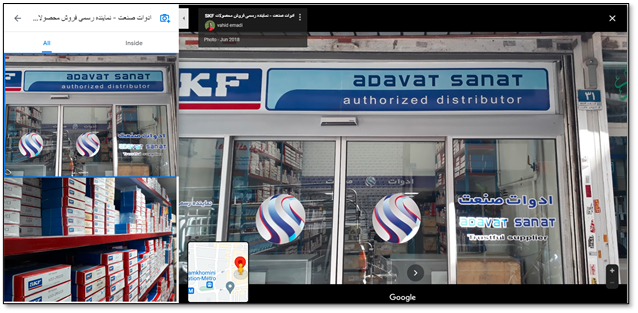 SKF also has 'authorized distributors' in the United States. In fact it has more than 4,000 of them, as well as 28 manufacturing sites and two "Solution Factories" in Houston, Texas and Cleveland, Ohio. SKF is also a massive beneficiary of U.S. federal contracts, including from Department of Defense entities including the U.S Air Force and DOD combat support arm Defense Logistics Agency.  According to Govtribe.com, SKF USA, Inc. has received $15.1 million in federal contract and grant funding from 2002 to 2020, while the Federal Procurement Database System indicates that SKF has received contract awards to the tune of almost $3.5 million in the last 12 months alone.
Given SKF's vast and lucrative U.S. footprint, it is imperative that SKF provides full disclosure with regard to Iran. UANI has written three times to SKF seeking such clarification, and most recently on May 7 - a copy of which was sent to SKF USA, Inc. based in Lansdale, Pennsylvania. SKF has failed to respond.
Other U.S.-based entities have also made public their concerns about SKF. Most notably, the California Public Employees' Retirement System CalPERS, the largest public pension fund in America with $444 billion in assets, has placed SKF "in monitor" status for 2020. CalPERS "continues to monitor the company for possible changes in status relevant to the [California Public Divest from Iran] Act."  The Act bars CalPERS and its sister fund CalSTRS from investing in companies with Iran business operations, and requires "each pension system to sell or transfer any investments in a company with business operations in Iran."
On June 1, SKF will install a new Chief Executive Officer, Rickard Gustafson.  UANI trusts that Mr. Gustafson will prove more forthcoming about SKF's apparent Iran business than his predecessor.