October 2023 Iran Tanker Tracker
The barbaric atrocity inflicted by Iran-backed Hamas on October 7 has reignited the question of how to stop billions of petro-dollars flowing to the head of the snake in Tehran. Since the start of the Biden administration, Iran has exported well north of $80 billion worth of its oil.  Billions are, in turn, given to terror proxies. Hamas alone receives $100 million each year from its Iranian patrons, with horrific results.
Now, some lawmakers are proposing that the United States must "put teeth into existing restrictions."  As reported in Maritime Executive, Senator Joni Ernst is launching a bill to physically interdict oil-carrying tankers. Homeland Security Investigations (HSI), responsible for oil seizures, would receive $150 million as "seed money."  Since the largest Very Large Crude Carriers (VLCC) can hold up to $200 million worth of oil, that fund could be replenished after the first interdiction, with additional seized cargo sales put back into the public purse.
This would be a major expansion to the current state of affairs. In recent years, there has been just a single example of a successful U.S. seizure of Iranian oil involving the SUEZ RAJAN tanker. UANI trackers first identified and flagged this vessel for U.S. authorities in February 2022, meaning that even in this best-case scenario, it took a full 18 months to finalize. Although U.S. authorities sought a similar resolution with the vessel LANA, seized by Greece in April 2022, it ultimately failed because of a Greek court decision to release the taker.  The Ernst bill would be game-changing, and there is clearly an appetite on the Hill to move forward.
There are existing restrictions, as described in a recent Congressional Research Service report, which asks whether the United States is permitted to interdict tankers shipping oil where there is no clear U.S. nexus. Another wrench, of course, is the Biden administration's "desire not to escalate tensions with China, [and] the pursuit of lower petroleum prices…"  Regardless, interdictions should take place if the world has any chance of squeezing the Islamic Republic and its terror-financing oil wealth. October again saw Iran manage to export over 1  million barrels per day:
Iran's oil exports for October 2023 are shown below:
| | | | |
| --- | --- | --- | --- |
| Country of Destination | October 2023 - Barrels Per Day (bpd)* | September 2023 - Barrels Per Day (bpd)* | August 2023 - Barrels Per Day (bpd)* |
| China | 1,034,505 | 1,196,920 | 1,685,782 |
| Syria | 119,527 | 91,379 | 149,946 |
| UAE | 123,091 | 62,319 | 56,057 |
| Venezuela | 0 | 64,445 | 0 |
| Unknown | 118,403 | 109,960 | 74,194 |
| Total | 1,394,527 | 1,525,023 | 1,965,979 |
* Figures to be updated over the following weeks
On October 24, two vessels, ARTEMIS III (IMO: 9102241) and the Panama-flagged OCEAN HERMANA (IMO: 9286229), were identified as engaging in an STS transfer of Iranian oil in the Riau Archipelago.  Following the detection, Malaysian authorities took prompt action to detain the vessels as they were operating within their territorial waters.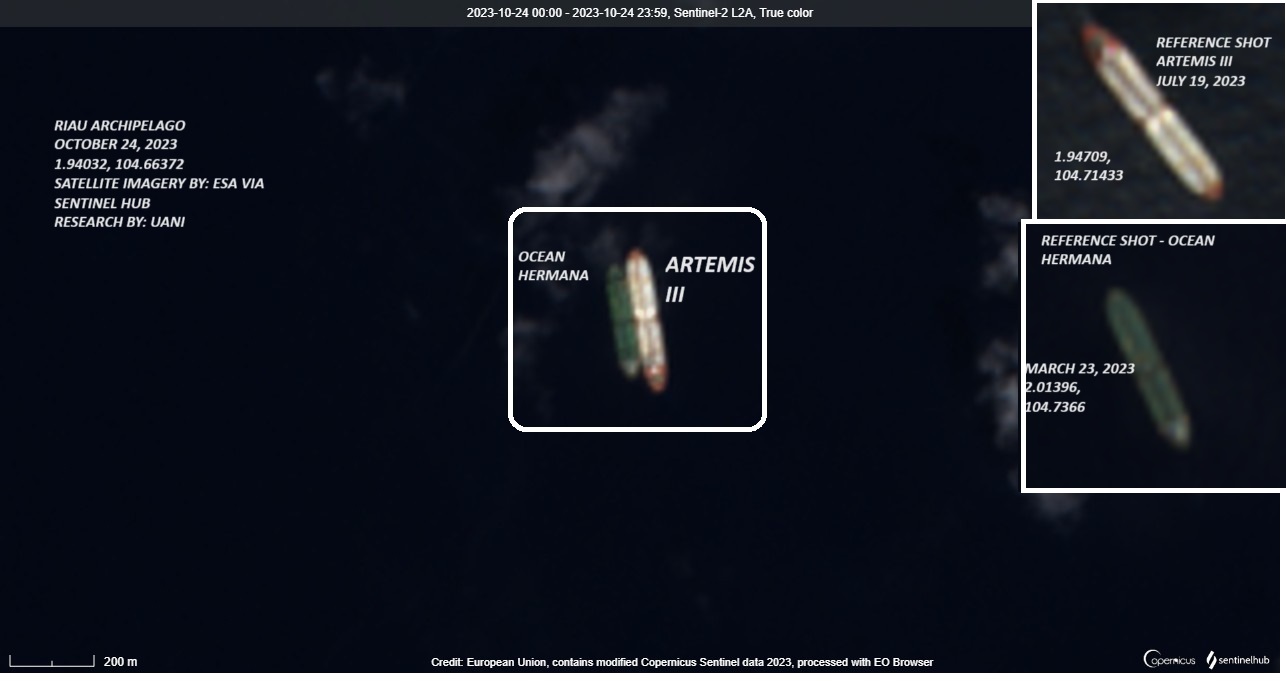 The Malaysian Maritime Enforcement Agency (MMEA) in the Johor region, responsible for the area around the Riau Archipelago, reported the seizure of these two tankers after they were initially spotted by one of MMEA's patrol boats at midday on October 24. The two vessels, found approximately 32 nautical miles east of Tanjung Sedili, were reluctant to cooperate when asked for identity and information by the patrol boat. This led to a forced boarding and inspection of the vessels by a team supplied by the Air Operations Division of MMEA. Both tankers were seized after failing to present any authorization documents for the activities being conducted.
The details surrounding the illicit transfer point to a broader issue – these transfers are far from rare, occurring almost daily in these waters. While these vessels were not detained for transporting Iranian oil per se, the incident reflects a pervasive issue that demands a cohesive international response.
Prior to engaging in the STS transfer with OCEAN HERMANA, ARTEMIS III was identified as loading Iranian oil from Kharg Island, Iran, on August 25, 2023. During the dates of the loading, ARTEMIS III was spoofing its AIS transponder to appear as if it was engaged in a STS transfer with NEW TINOS (IMO: 9251602) in Iraqi waters. This is a common tactic used by Iran to evade sanctions. We therefore strongly suspect that the documents on ARTEMIS III are forged and say the oil is Iraqi instead of Iranian.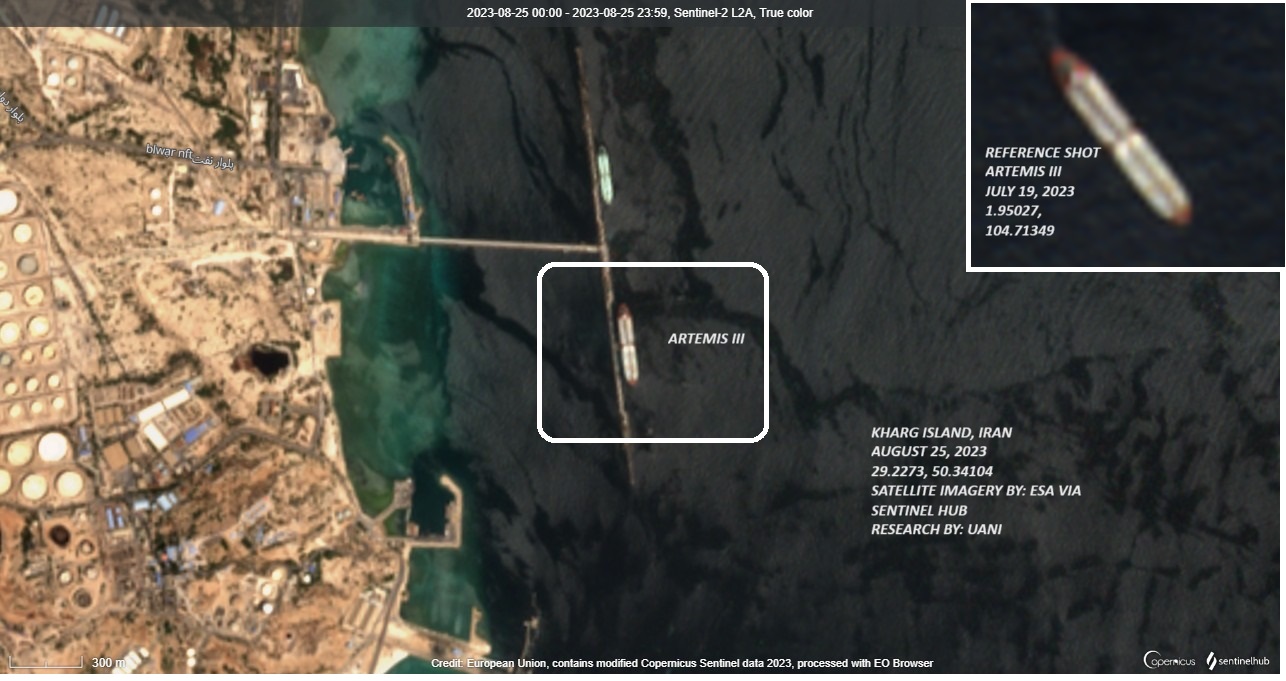 As we continue to track these activities, especially involving Iranian oil, it's imperative to underscore the importance of global cooperation to curb such illicit activities. We call on our Malaysian friends to continue working in tandem with the US Government (USG) to address the issues surrounding illicit STS transfers, potentially aiding in the seizure of oil from vessels involved in unauthorized activities. The cooperation between nations is a cornerstone in ensuring maritime security and adhering to international sanctions.
Engaging in illicit STS transfers is a common tactic to evade sanctions and continue the unauthorized trade of Iranian oil. The actions taken by the Malaysian authorities are a step towards enforcing international sanctions and ensuring maritime security within their territorial waters. Such proactive measures are essential in deterring future unauthorized STS operations and adhering to the global commitment to preventing the evasion of sanctions.
Receive Iran News in Your Inbox.
Eye on Iran is a news summary from United Against Nuclear Iran (UANI), a section 501(c)(3) organization. Eye on Iran is available to subscribers on a daily basis or weekly basis.