Ambassador Gilad Erdan To Join U.S., European, And Gulf Leaders At Major Policy Summit

 
New York, N.Y.) — United Against Nuclear Iran (UANI) today announced that Israeli Ambassador to the United Nations Gilad Erdan will address the 2022 UANI Iran Summit on September 21 in a speech scheduled on the same day the President of the Islamic Republic of Iran will address the 77th UN General Assembly. Ambassador Erdan was elected Vice-President of the UN General Assembly in June 2022.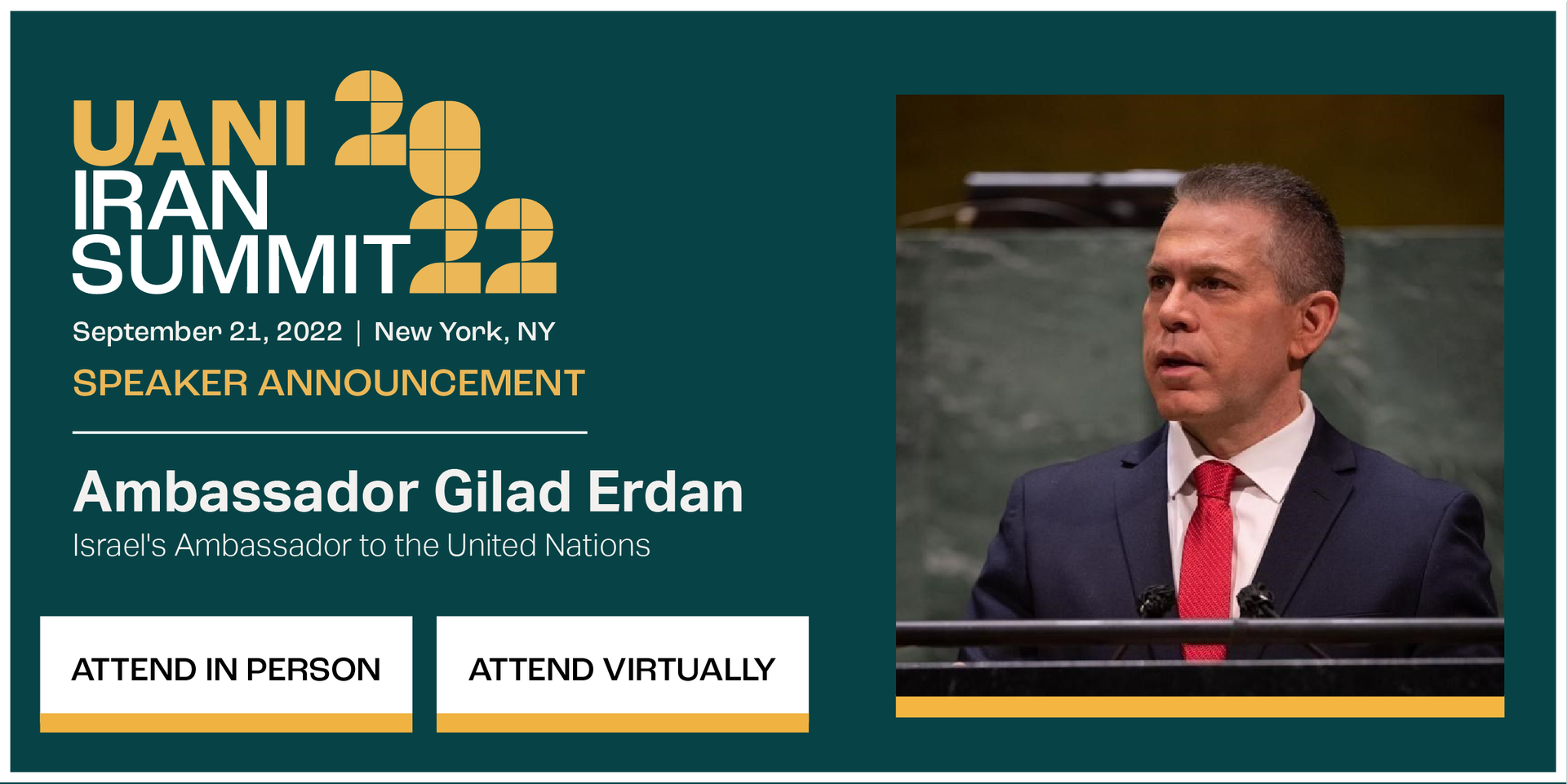 The program for the 2022 UANI Iran Summit will begin at 9:00 AM from the JW Marriott Essex House in New York. Registration is open to attend in-person or virtually through a special live stream.
All in-person attendees are also invited to submit a request to attend a private event with UANI leadership and distinguished Advisory Board members at the conclusion of the program.
The 2022 UANI Iran Summit features the world's top experts on Iran's nuclear program, partnerships with Russia and China, terrorist networks, hostage diplomacy, and human rights abuses. Register now to join thought-provoking speakers and panelists including:
U.S. Deputy Attorney General Lisa Monaco

U.S. Senator Joni Ernst

U.S. Senator James Lankford

U.S. Senator Jacky Rosen

U.S. Senator Joseph I. Lieberman, Chairman of UANI

U.S. Ambassador John R. Bolton, former National Security Advisor to President Donald J. Trump

U.S. Ambassador Nikki Haley, former Ambassador to the United Nations

U.S. Ambassador Dennis Ross, former Special Assistant To President Barack Obama

U.S. Ambassador Nathan Sales, former U.S. Coordinator For Counterterrorism

U.S. Ambassador Mark D. Wallace, CEO of UANI

Bahraini Ambassador to the U.S. Shaikh Abdulla bin Rashid Al Khalifa

Member of the European Parliament Charlies Weimers

Masih Alinejad, Iranian American Journalist and Human Rights Activist

Ilan Berman, American Foreign Policy Council

Victoria Coates, former U.S. Deputy National Security Advisor

Hiva Feizi, PaykanArtCar

Zohar Palti, former Head of the Political-Military Bureau at Israel's Ministry of Defense and former Director of Intelligence of the Mossad

Danielle Pletka, American Enterprise Institute (AEI)

Anthony Ruggiero, Foundation for Defense of Democracies (FDD)

Ray Takeyh, Council on Foreign Relations

Frances F. Townsend, former U.S. Homeland Security Advisor