Eye on Iran's Protests - May 18, 2023
May 18, 2023
In an effort to deter the Women, Life, Freedom revolution, the Islamic Republic has killed over 500 people, including 71 children. As activists worldwide pressure their governments to take action in support of the movement, activists inside Iran are facing terror for their peaceful acts of resistance against Iran's Islamic laws and repressive social mores.
This map shows the location of protests over the past week.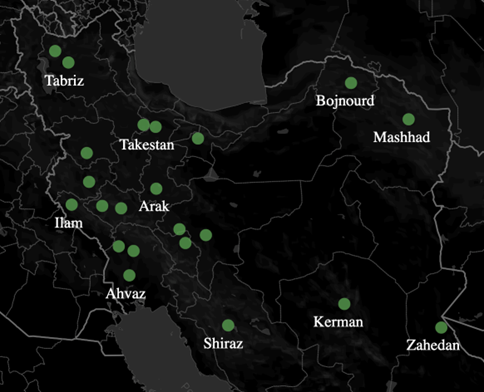 This map shows the location of arrests over the past week.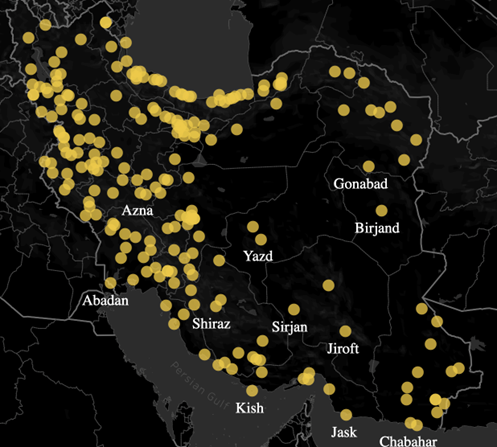 A cleric in Tehran issued a fatwa calling for the death of hunger striker Vahid Beheshti. His response: "Not only does this NOT deter me from my campaign to proscribe the IRGC, I have become ever more determined to continue stronger."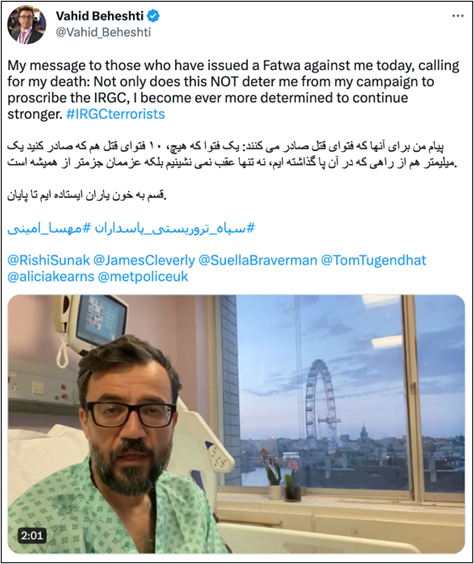 Three Iranians—Majid Kazemi, Saleh Mirhashemi, and Saeed Yaghoubi—are facing imminent execution by the Islamic Republic.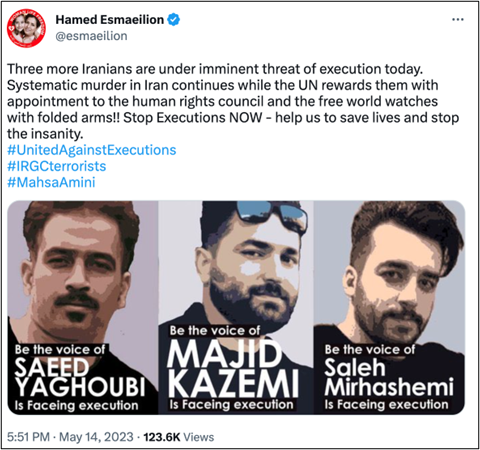 Traffic accumulated on the streets to Dastgerd Prison in Iran's Esfahan Province, as concerned citizens sought to prevent the wrongful, imminent execution of three individuals.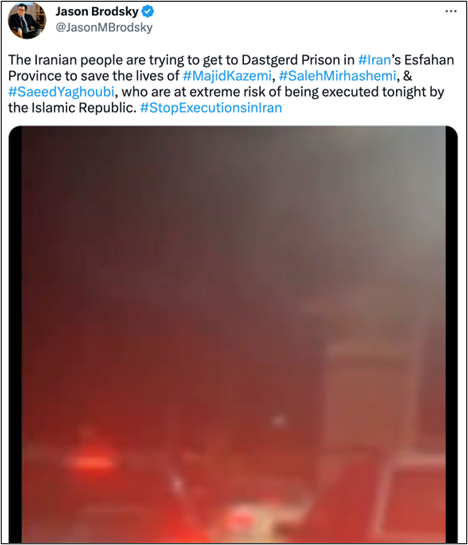 Shooting could be heard, as protesters gathered outside a prison in Esfahan Province.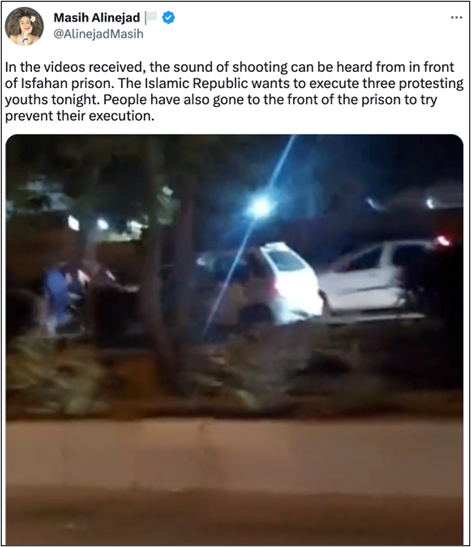 A leader in the Iranian diaspora community, Nazanin Boniadi, met with U.S. Senator James Risch to talk about the dire situation on the ground in Iran.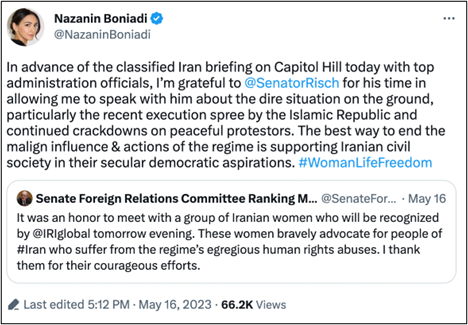 Pensioners protested outside the Social Security Organization in Ahvaz.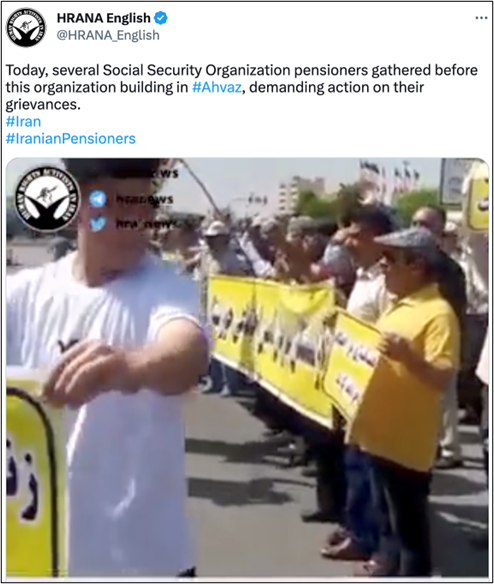 Several civil and labor activists have been forcibly detained by intelligence forces in Sanandaj.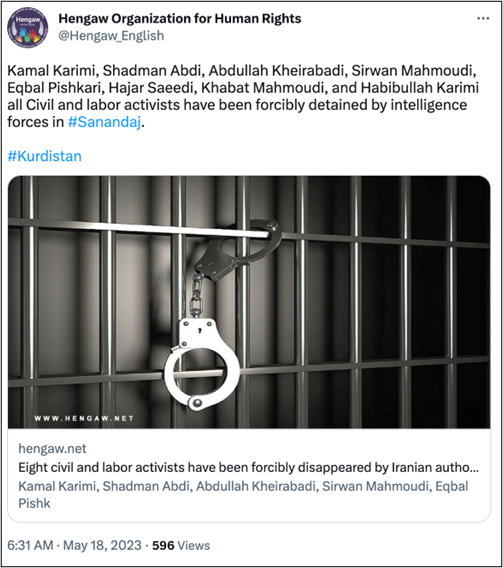 "Now is time for the UK government to proscribe the evil IRGC terrorists once and for all," British MP Bob Blackman said.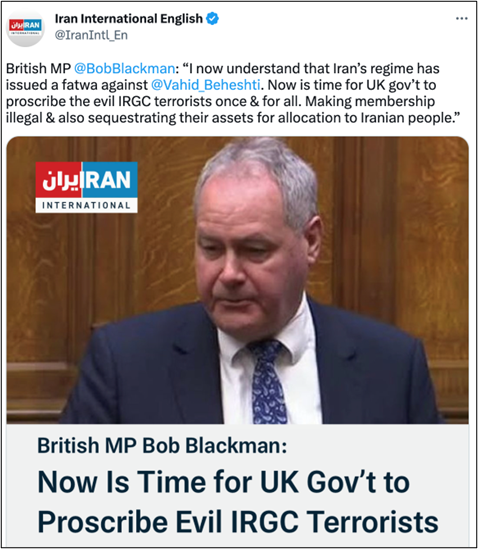 "The US reaction needs to be stronger. Tehran is becoming the execution capital of the world. We need to speak out in a stronger way," U.S. Representative Lloyd Doggett told Iran International on the sidelines of a gathering of Iranian expatriates at the Capitol Hill in Washington, DC.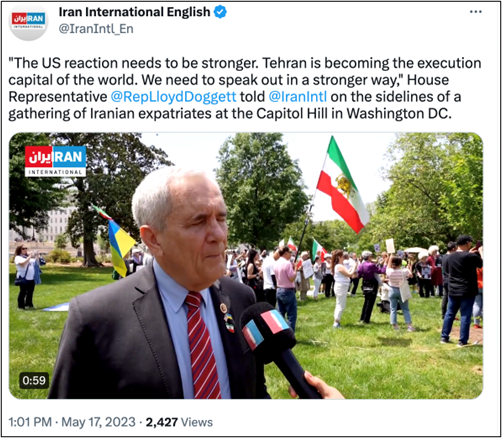 Tehran authorities demolished street cafes in Ekbatan Town.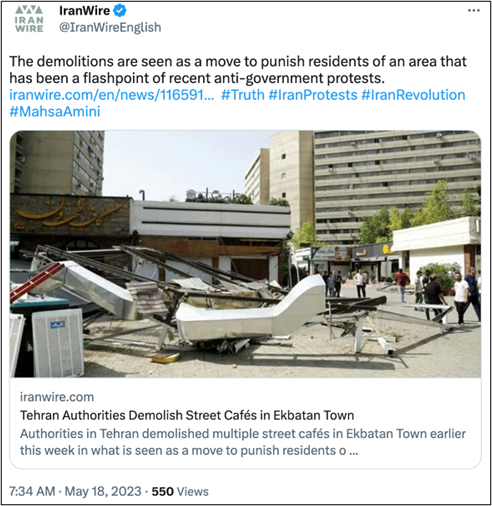 An Iranian ballerina performed on the street in Iran without hijab.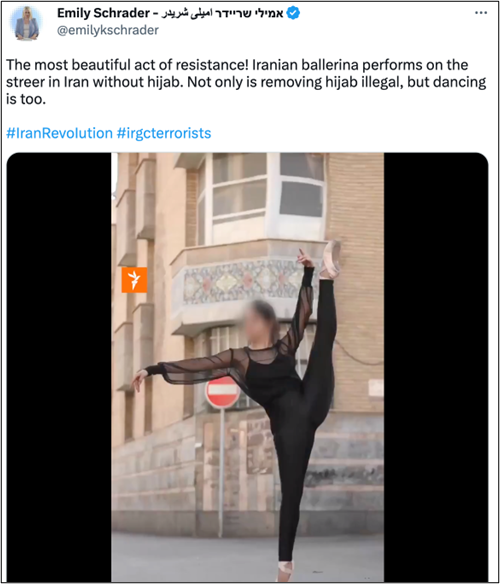 The Atlantic Council's 2023 Distinguished Humanitarian Leadership Award was awarded to the women and girls of Iran who have spearheaded the ongoing Woman, Life, Freedom protest movement.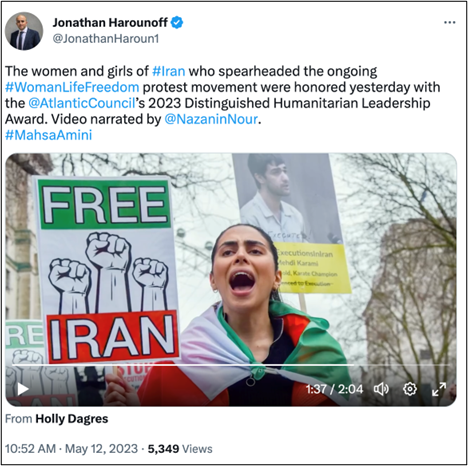 A large gathering of Iranians thronged Sajjad Boulevard in Mashhad, Iran. The police then dispersed them.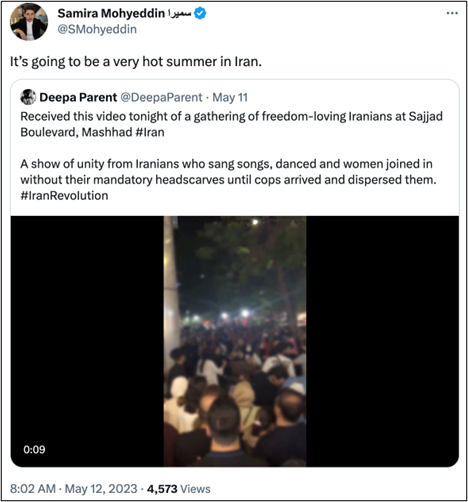 For the 32nd consecutive Friday, the people of Zahedan in southeastern Iran held an anti-government protest rally following their Friday prayers.
Receive Iran News in Your Inbox.
Eye on Iran is a news summary from United Against Nuclear Iran (UANI), a section 501(c)(3) organization. Eye on Iran is available to subscribers on a daily basis or weekly basis.