Aras Amiri
Aras Amiri
British Resident and Iranian Citizen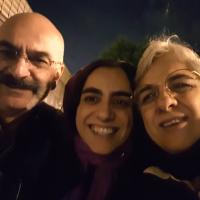 Biography
Aras Amiri is an Iranian citizen and British permanent resident who worked in London for the British Council, a U.K. government body that promotes education and culture. According to the Council's chief executive, Amiri was "employed for five years in London to help greater appreciation of Iranian culture in the U.K., for example supporting translations of Iranian books into English." She also studied art philosophy at Kingston University in London.
Arrest
Amiri was arrested in March of 2018 on the way to Tehran's airport after visiting her grandmother. She traveled to Iran once or twice a year to see family, according to her fiancé, James Tyson. Amiri was released on bail in May of 2018 but arrested again on September 7 of that year.
Treatment in Prison
Amiri is being held in Tehran's notoriously brutal Evin Prison. Her fiancé claims that Amiri "was led into a series of interrogations, imprisoned, solitary confinement and then a period of interrogations over two months." Amiri spent a total of 30 days in solitary confinement.
Charges, Trial, and Sentencing
Iran's judiciary charged her with "acting against national security" and "cultural infiltration by the British intelligence services in Iranian internal affairs." Amiri said in a letter to the head of Iran's judiciary that while she was out on bail, her interrogators contacted her and asked her to spy for them in the U.K. After she refused, they soon rearrested her and added a new charge, "founding and directing a network for overthrowing the regime."
Amiri was tried before the Islamic Revolutionary Court in Tehran in February and March of 2019. Trial judge Abolqassem Salavati is nicknamed "the Hanging Judge" or "the Judge of Death" for imposing harsh sentences, including capital punishment, in political cases. On May 13, 2019, a judiciary spokesperson announced that an unnamed woman (presumably Amiri) who headed the British Council's Iran desk had been sentenced to 10 years in prison for espionage, namely, utilizing her arts and theater connections to culturally "influence and infiltrate" Iran. He added that the woman had confessed to working with British intelligence. Amiri stated that she only learned of her sentencing and the new espionage charge when watching television in prison.
Amiri appealed her sentence and wrote a letter pleading her case to the head of Iran's judiciary, Ebrahim Raisi. However, Iran's supreme court rejected her appeal in August of 2019.
Temporary Release
Amiri has been temporarily released, according to a report by the National on April 9, 2020. She was furloughed as the dangerous COVID19 virus has ravaged Iran, killing over 26,000 people (according to the Iranian regime's official statistics; a BBC investigation indicted the actual number may be almost triple that) as of October 1, 2020. Inmates living in appalling conditions in Iran's prison system are at particular risk of contracting the virus. As of April 3, 2020, Iran had released a reported 100,000 some-odd prisoners, presumably to reduce the population density in its prisons and thereby minimize the spread of the virus.