TOP STORIES
U.S. Seizes Iranian Fuel Cargo For First Time | The Wall Street Journal
The Trump administration has for the first time confiscated cargo in vessels allegedly loaded with Iran fuel in violation of sanctions, U.S. officials said, as it steps up its campaign of maximum pressure against Tehran. Last month U.S. federal prosecutors filed suit to seize the four tankers of gasoline that Iran was sending to Venezuela, the latest move in the administration's effort to stifle flows of goods and money helping to keep two of its top foes in power. At the time, it was unclear if U.S. authorities would successfully be able to take control of the tankers, after a similar effort to seize Iranian fuel through a U.S. forfeiture case was unsuccessful last year.
Iran To Boost Nuclear Fuel Production At Plant Hit By Blast | Bloomberg
Iran is moving to boost production of nuclear fuel at a key facility struck by apparent sabotage last month. The Islamic Republic is transfering new generations of advanced centrifuges used to enrich uranium -- the heavy metal needed for nuclear power and weapons -- from a pilot facility into a new hall at its primary fuel plant in Natanz, according to a one-page restricted International Atomic Energy Agency document seen by Bloomberg.
UN Is Voting On US Resolution To Extend Iran Arms Embargo | Associated Press
The U.N. Security Council started voting Thursday evening on a U.S. resolution that would indefinitely extend the U.N. arms embargo on Iran, a measure that faces strong opposition from Russia and China and is almost certain to be defeated. The results of the email voting because of the COVID-19 pandemic are expected to be announced on Friday evening, and it is likely the resolution will not get the minimum nine "yes" votes in the 15-member Security Council for Russia and China to use their vetoes.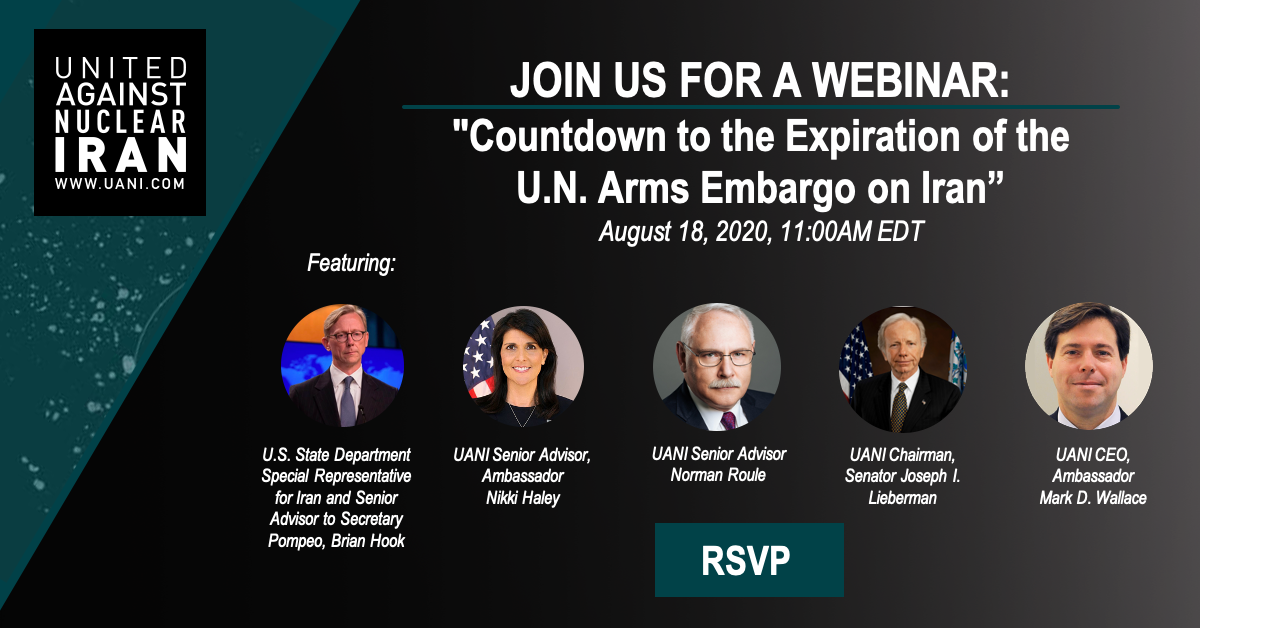 NUCLEAR DEAL & NUCLEAR PROGRAM
Iran Said Readying To Ratchet Up Enrichment At Natanz, Violating Nuke Deal | The Times Of Israel
Iran has reportedly been moving to boost uranium enrichment at the Natanz nuclear facility, the site of a mysterious blast last month that allegedly targeted advanced centrifuges. A document from the International Atomic Energy Agency cited by the Bloomberg news agency said new advanced centrifuges were being moved from a pilot facility to a new area at Natanz. Piping has been installed to accommodate higher volumes of enriched material produced by three new cascades, made up of 164 centrifuges each, the document stated.
U.S.-IRAN RELATIONS & NEGOTIATIONS
Maximum Pressure May Bring Iran Back To The Table After All | Henry Rome For Foreign Policy
Iran has not faced such severe economic pressure since the Mongol invasion in the 13th century. At least that's the view of Saeed Laylaz, a prominent Iranian economist, whose quip was evidently an attempt to shock the Iranian policy elite into action over the country's teetering economy. Whether or not the Islamic Republic is under as much duress as its medieval predecessor, there is little doubt that the country does face a dire economic situation. The economy will likely shrink by 6 percent this year, according to the International Monetary Fund (IMF). Inflation is officially 26 percent and rising, and the rial has reached a historic low against the dollar.
IRANIAN INTERNAL DEVELOPMENTS
Iran Conservatives Uncertain About Winning 2021 Presidential Election | Radio Farda
A divide among Iran's conservatives casts doubt whether a victory in the May 2021 election is within their reach, despite their overwhelming majority at the Iranian parliament and the fact that many of the institutions that affect the election and its results are also held by conservatives. Despite their differences and infightings, the conservative camp has historically enjoyed wholehearted support from Supreme Leader Ayatollah Ali Khamenei. Conservatives would be met with little resistance in the vetting process by the conservative-held Guardian Council, and have generally been treated favorably by powerful institutions including the seminaries and the armed forces.
Iranian Official Reveals Claims Of Corruption At Highest Levels | Al Monitor
Parviz Fattah, an official under former President Mahmoud Ahmadinejad's administration (2005-13), gave an interview to Iranian state TV on Aug. 1 that continues to rock Iranian media, even leading to speculation of a run for the presidency. A former Islamic Revolutionary Guard Corps (IRGC) member who served as Ahmadinejad's energy minister and as head of the Imam Khomeini Relief Foundation for four years, Fattah has since 2019 been head of the Mostazafan Foundation, a charitable organization that is often described as the second wealthiest institution in Iran next to the Oil Ministry.
Iranian President Hassan Rouhani's Seven Years Of Broken Promises | Dr. Majid Rafizadeh For Arab News
This month marks seven years since Hassan Rouhani assumed the Iranian presidency. There was a lot of hope, both in Iran and abroad, when he was elected in 2013. He twice ran to be president, offering promises such as "prudence and hope" and "freedom, security, peace and progress." He pledged to improve Iran's economy, raise people's living standards, bring normalcy to the country, enhance its image abroad, improve its ties with other countries, bring it out of international isolation, and advance civil liberties, human rights and the freedoms of speech, press and assembly.
IRANIAN REGIONAL AGGRESSION
Iran Seizes An Oil Tanker And Attacks A Dummy Aircraft Carrier In An Attempt To Inspire Fear | Sebastien Roblin For NBC News
A lot of suspicious, strange and downright surreal things have been happening in Iran these days. Some of them seem straight out of an action thriller, as a series of unexplained explosions have riddled Iranian nuclear facilities. And some of them really are straight out of Hollywood — a fake air force carrier supposedly built for a film by Oliver Stone's son was the subject of a bizarre staged attack by Iran in July. Then on Wednesday, a Liberian-flagged oil tanker owned by a Greek company was seized near the Strait of Hormuz by Iranian special forces rappelling down onto her deck via fast-ropes from an orbiting helicopter.
RUSSIA, SYRIA, ISRAEL, HEZBOLLAH, LEBANON & IRAN
Iran News Agency Tied To Revolutionary Guards Calls UAE-Israel Deal 'Shameful' | Reuters
Iran's Tasnim news agency, which is affiliated to the country's elite Revolutionary Guards, said Thursday's deal between Israel and the United Arab Emirates on normalising ties was "shameful". Iran's clerical leaders have yet to react to the deal. Israel and the UAE reached a deal on Thursday on seeking the full normalisation of diplomatic relations between the two Middle Eastern nations, in an agreement that U.S. President Donald Trump helped broker.
Lebanon Alone Must Decide Its Own Future, Says Iran Foreign Minister | Reuters
Only the Lebanese people and their representatives can decide the country's future, Iran's foreign minister said on a visit to Beirut on Friday, following the massive blast at the city's port that killed 172 people and prompted the government to resign. Iran backs Lebanon's powerful armed movement Hezbollah, which along with its allies helped form the outgoing government. The United States classifies Hezbollah as a terrorist group.
Russia Has Enough Influence To Get Iran Out Of Syria, US Envoy Says | The National
James Jeffrey, the US envoy for Syria, said on Thursday that Russia had enough leverage to bring the Assad regime to the negotiating table and push Iran-led forces out of the country. Mr Jeffrey, the White House point man for the global coalition against ISIS in Syria, spoke before a trip to Geneva next week. He is due to discuss the political process in Syria, especially progress on the constitutional committee, with regional, European and Russian envoys. Mr Jeffrey said he considered Moscow's role as instrumental in getting a settlement to the conflict.
TURKEY & IRAN
Iran, Turkey Lash Out At UAE Over Agreement With Israel | Associated Press
Iran and Turkey lashed out at their regional rival the United Arab Emirates on Friday over its decision to normalize diplomatic relations with Israel in a U.S.-brokered deal, accusing it of betraying the Palestinian cause. Iran's Foreign Ministry called the deal a "dagger that was unjustly struck by the UAE in the backs of the Palestinian people and all Muslims." Turkey said the peoples of the region "will never forget and will never forgive this hypocritical behavior" by the UAE.