TOP STORIES
U.S. Prepares Sanctions Against Hezbollah's Allies In Lebanon | The Wall Street Journal
The Trump administration is preparing to impose anticorruption sanctions against prominent Lebanese politicians and businessmen in an effort to weaken Hezbollah's influence in the aftermath of last week's explosion in Beirut's port, according to U.S. officials and others familiar with the plans. The blast, which killed at least 160 people and injured thousands more, has accelerated efforts in Washington to blacklist Lebanese leaders aligned with Hezbollah, the country's dominant political and military force, according to these people.
US Says Iran Briefly Seizes Oil Tanker Near Strait Of Hormuz | Associated Press
The Iranian navy boarded and briefly seized a Liberian-flagged oil tanker near the strategic Strait of Hormuz amid heightened tensions between Tehran and the U.S., a U.S. military official said Thursday. The U.S. military's Central Command published a black-and-white video showing what appeared to be special forces fast-roping down from a helicopter onto the MV Wila, whose last position appeared to be off the eastern coast of the United Arab Emirates near the city of Khorfakkan.
Iran's President, FM Lash Out At New US Push On Arms Embargo | Associated Press
Iran's president and foreign minister lashed out on Wednesday at a revised proposal by the U.S. that would extend a U.N. arms embargo on Iran indefinitely, the latest in the Trump administration's maximum pressure policy against Iran. The U.S. on Tuesday circulated the revised draft at the U.N., seeking to gain more support in the 15-member Security Council where veto-wielding Russia and China have voiced strong opposition. The revised draft, which eliminated some provisions from the earlier version that diplomats said went beyond the extension of the arms embargo, may be put to a vote as early as Friday.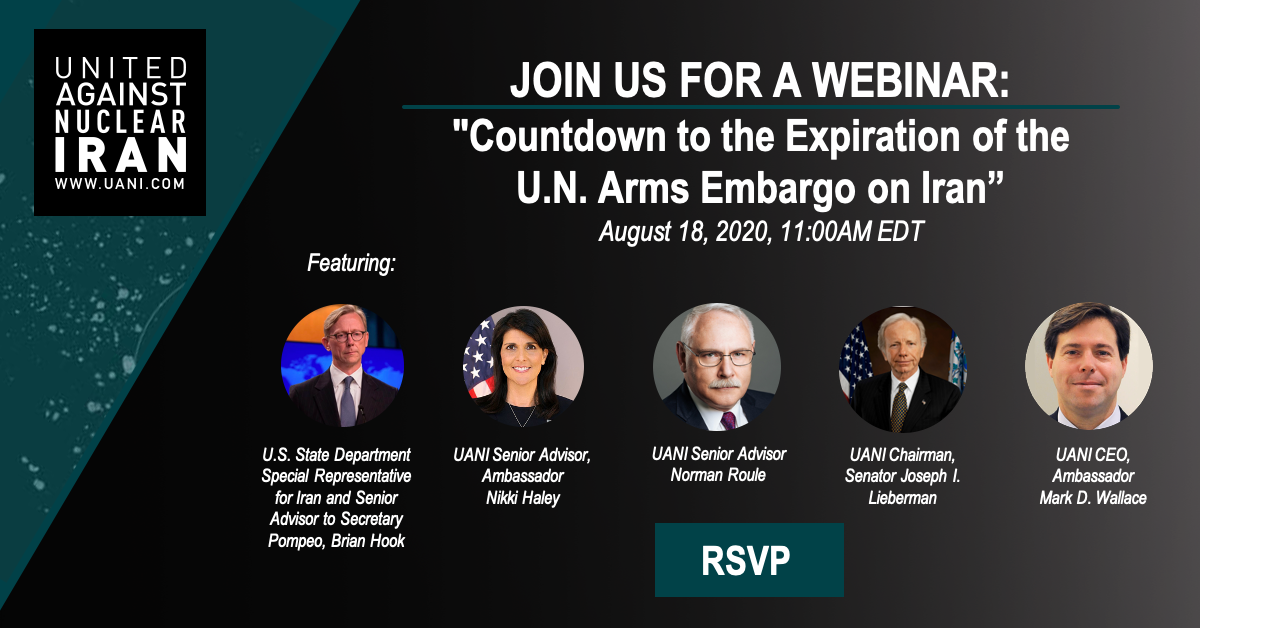 UANI IN THE NEWS
Evin Prisoner Pleads For Release From Iranian 'Hellhole' | The National
… The Iranian-British lawyer Shahram Shirkhani was accused of spying for Britain's MI6 agency and passing on classified information about the central bank and defence ministry contracts. Dual-citizen Massud Mossaheb had been spying for Mossad and Germany while working under the guise of general secretary of an Austrian-Iranian society, according to an official. "For many dual citizens, simply visiting Iran carries with it the risk of imprisonment or incarceration and this systematic tactic of hostage-taking must be ended," said David Ibsen, the president of American advocacy group United Against Nuclear Iran.
SANCTIONS, BUSINESS RISKS, & OTHER ECONOMIC NEWS
Struggling Iran Wants Its People To Invest Their Money In Oil | Bloomberg
Iran plans to enable members of the public to invest in oil on its capital markets for the first time, as the government looks for ways to strengthen an economy pummeled by U.S. sanctions and a major coronavirus outbreak. President Hassan Rouhani said on Tuesday that the plans had been ratified by Iran's Supreme Council of Economic Coordination, according to the Oil Ministry's news service. He said officials hoped to tap "high levels of liquidity" -- or cash supply -- in the economy. "The stock market and oil -- not gold and the dollar -- are the places to be investing and we want to help people this way," Rouhani told his cabinet on Wednesday in Tehran, according to state TV.
PROTESTS & HUMAN RIGHTS
Iranian Musician Rebuffing Ban Arrested For Allegedly Encouraging Women To Dance And Sing | Fox News
A prominent Iranian music advocate and creator was detained by police officials and charged with allegedly aiding women to sing and dance, he told Fox News. Mehdi Rajabian, 30, said he was summoned by a police officer Tuesday morning and sent to the Revolutionary Court of Sair – a crackdown he said came after one of his latest art projects was featured online. "I was interrogated by the police, and I was asked to appear in court. I was arrested immediately until my family released me on bail. I was detained for several hours," Rajabian told Fox News from his home in Sari on Tuesday night.
IRANIAN INTERNAL DEVELOPMENTS
Amid Mayhem In The Region Rouhani Says Iran's Weapons Good For Everybody | Radio Farda
Iran's President Hassan Rouhani reacted with a three-day delay to The Persian Gulf Cooperation Council's letter to the United Nations Security Council demanding an extension to the arms embargo against Iran. Rouhani told Persian Gulf states' leaders on Wednesday August 12 that "Iran's military power is in the interest of the whole region." Meanwhile, he repeated several times in his statement made during a cabinet meeting on Wednesday that "Iran's weapons and military power are not going to be used against our neighbors." Meanwhile he warned the Persian Gulf heads of states that "The United States might take advantage of them for its own interests."
Iran Health Officials Say Coronavirus Contaminating At Much Greater Rate Than Before | Radio Farda
Coronavirus' contamination power has increased by three to nine times in Iran, Deputy Health Minister Iraj Harirchi said on Tuesday, August 11. Speaking in a program of the state-run television, Harirchi said the coronavirus is a complex virus and "has even become more complex [due to mutations] now". "In addition to complexity, its contamination rate has increased by three to nine-fold," Harirchi said but added that it is not clear if it only contaminates at a higher rate or also causes COVID-19 at the same higher rate.
Coronavirus: Dozen Prisoners From Iran's Notorious Evin Jail Infected In Single Ward | The National
Twelve inmates in a single ward at Iran's notorious Evin prison have contracted Covid-19, according to the wife of one of the inmates. Seventeen people on ward eight at the jail in Tehran were tested for coronavirus even though more than that number were showing symptoms, according to Monir Abdi, whose husband was one of those affected. The 12 who tested positive were moved to two separate rooms at the prison's clinic but only one has since been transferred to hospital, she told the rights group Centre for Human Rights in Iran.
GULF STATES, YEMEN, & IRAN
Saudi Arabia Calls For Extending Arms Embargo On Iran | Arab News
Saudi Arabia's UN ambassador called for an extension of the arms embargo on Iran in a session on Thursday, Saudi press agency reported. "Iran smuggles weapons to militias which destabilize regional peace," Abdul Aziz Al-Wasel said during a conference held in Geneva. Al-Wasel called for an extension of arms embargo on Iran, which is due to expire on October 18, and said allowing the Islamic Republic to buy weapons will increase their hostile activities in the region.
OTHER FOREIGN AFFAIRS
France Seeks Cooperation From Iran, Russia On Lebanon | Associated Press
French President Emmanuel Macron spoke Wednesday to the leaders of Russia and Iran and urged them to cooperate with the rest of the international community to restore stability in Lebanon. While Iran and Russia are important power players in the region and have offered Lebanon aid since last week's devastating explosion, neither participated in an international donors' conference Sunday organized by France and the U.N. to help rebuild Beirut. Macron visited Beirut in the wake of the blast and offered broad support for the former French protectorate.