TOP STORIES
Future Of Nuclear Talks With Iran Remains Uncertain As Tehran Expands Enrichment Activities | The Washington Post
Three months after the last meeting to negotiate a revival of the nuclear agreement between Iran and world powers, it remains unclear if and when the talks in Vienna will restart, or who might represent Iran's new government. In the interim, Iran has continued to expand the quantity and quality of its uranium enrichment, leading some experts to conclude it is now even closer to possessing enough fissile material to build a bomb than the two or three months the Biden administration has publicly estimated. At the same time, Iran has repeatedly sparred with the International Atomic Energy Agency over monitoring of its nuclear activities originally agreed in the 2015 deal. 
Iran's Raisi Calls Sanctions U.S.'s New War Weapon In UN Debut | Bloomberg 
Iran's President Ebrahim Raisi said the U.S. is using sanctions as a new means of warfare in a debut before the United Nations General Assembly that was notably absent of any updates on the stalled talks to revive the 2015 nuclear deal. In a prerecorded speech screened at the annual gathering of world leaders in New York City, Raisi, who's subject to direct U.S. sanctions, said his country could never trust Washington after former President Donald Trump abandoned the multiparty accord in 2018. 
Diesel Tankers Brought By Hezbollah From Iran Heading Towards Lebanon -Al Mayadeen TV | Reuters 
Lebanese pro-Iranian TV channel Al Mayadeen said on Tuesday that a convoy of diesel tankers brought by Hezbollah from Iran crossed the Syrian border towards Lebanon. The Iran-aligned group says the shipments should ease a crippling energy crisis in Lebanon, while Lebanese Prime Minister Najib Mikati said Iranian fuel shipments constitute a breach of Lebanon's sovereignty. Both Syria and Iran are under U.S. sanctions.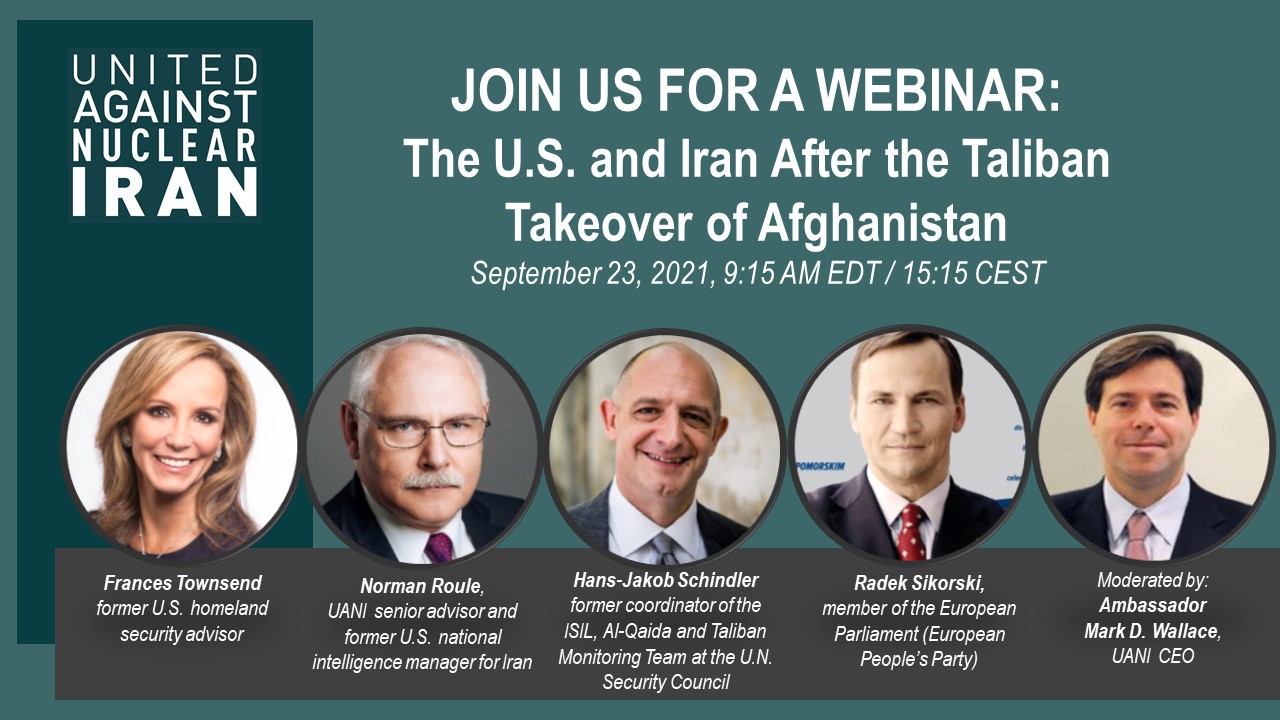 NUCLEAR DEAL & NUCLEAR PROGRAM
New Iranian President Calls For Resumption Of Nuclear Talks In UN Speech | The Hill 
Recently elected Iranian President Ebrahim Raisi called for a resumption in nuclear talks in a pre-recorded address given at the United Nations General Assembly on Tuesday. "The Islamic Republic considers the useful talks whose ultimate outcome is the lifting of all oppressive sanctions," Raisi said, as Reuters reported. Nuclear talks among Tehran negotiators and world powers in Vienna adjourned in June. The U.S. has so far not reengaged directly with the negotiations, instead participating indirectly through allies.
PROTESTS & HUMAN RIGHTS 
Iranian Children Are Being Punished Based Of Their Parents' Religion And Beliefs | Hamed Farmand For Atlantic Council
It was the last week of September 2020 when an Iranian-Christian-convert couple lost custody of their two-year-old adopted daughter, Lydia. The court statement mentioned that Lydia had a strong attachment to her parents since they received temporary custody in February 2019. They also agreed that Lydia was born with a poor health system and demanded medical treatment. Despite these facts vital to Lydia's best interest, the District Court and Court of Appeal of Bushehr, a southern port city, rejected the parents' request to keep custody. The court revoked custody of Lydia because "[the parents] have converted to Christianity." 
U.S.-IRAN RELATIONS & NEGOTIATIONS 
As Iranian Leader Raisi Addresses UN General Assembly, Dissidents Call For Pressure On Regime | Fox News 
New Iranian President Ebrahim Raisi is set to address the U.N. General Assembly on Tuesday, and dissidents calling for a free and secular Iran are urging the international community not to let the opportunity to put pressure on the despot pass them by – and are calling for him to be prosecuted. Raisi, a hardline former judiciary chief tied to mass executions of dissidents in the 1980's, was elected earlier this year in an election dogged by low turnout and accusations of rigging by the ayatollah. 
Revolutionary Guards Chief: Iran Has 'Built Power' To Confront 'Failed' US | The Times Of Israel 
Iran has "built power" to confront the United States, the commander of the Islamic Revolutionary Guard Corps said on Tuesday, while dismissing Israel's regional clout. "We have built power to defeat the US. When we build power for man's largest military empire, i.e. the US, small powers like the Zionist regime are no longer counted in our equations," Gen. Hossein Salami was quoted as saying by the Fars news agency. He claimed that Iran no longer saw the US as a threat after it withdrew forces from the region, in an apparent reference to the recent chaotic pullout of American forces from Afghanistan.
IRANIAN INTERNAL DEVELOPMENTS 
Iran To Lift Visa Restrictions To Revive Pandemic-Hit Tourism Sector | Al Monitor 
"The spring of tourism [is coming]," wrote the government-run Iran newspaper Sept. 21, reporting on a ceremony in which conservative politician Ezzatollah Zarghami was sworn in as Iran's new minister of cultural heritage, tourism and handicrafts. Zarghami told the event that following his conversations with hard-line President Ebrahim Raisi, Iran plans to lift visa restrictions to help the severely hit tourism industry. Zarghami did not specify the date upon which those regulations would be scrapped. But several Iranian media outlets reported that twice-vaccinated foreign travelers would be embraced under the updated regulations. 
RUSSIA, SYRIA, ISRAEL, HEZBOLLAH, LEBANON & IRAN 
Foreign Ministry On Raisi UN Speech: 'A Clear Danger To The Middle East' | The Jerusalem Post 
"The Iranian regime is a clear and immediate danger to the Middle East and world peace," the Israeli Foreign Ministry stated in response to Iranian President Raisi's speech at the UN General Assembly on Tuesday.  "The new government in Iran, headed by Raisi and most of its ministers, are the extremist face of a regime that has harmed Iranian citizens for more than 40 years, encouraging and financing terrorism and destabilizing the entire Middle East," they continued.