TOP STORIES
EU's Top Diplomat Urges Iran To Return To Nuclear Talks | Associated Press 
The European Union's top diplomat urged Iran to return to talks on its nuclear program while the country's foreign minister reiterated Tehran's "willingness to resume negotiations" during a meeting at the United Nations, the EU said Wednesday. The remaining parties to the 2015 deal that meant to contain Iran's nuclear program have held several rounds of talks in Vienna earlier this year on how to bring the U.S. back into the deal and how Iran can return to compliance with its terms. But the last round ended in June, ahead of Iran's elections that boosted the ranks of hard-liners. Iran's new leaders have come under pressure to resume the talks. 
Iran-Saudi Diplomacy Intensifies As Nuclear Talks See Momentum | Bloomberg
Top diplomats from Iran, Saudi Arabia and the European Union met for the second time in less than a month on Tuesday in a sign of heightened efforts to reduce tensions in the Middle East as Tehran prepares to resume talks on the 2015 nuclear deal. The gathering at the Iraqi ambassador's residence in New York brought together "foreign ministers and senior representatives" of Iran, Saudi Arabia, Kuwait, Egypt, Qatar, Jordan, Turkey, France, the EU, the Arab League and Gulf Cooperation Council, according to Iran's semi-official Mehr news agency. 
After Fall Of Bashir, Sudan Closes Door On Support For Hamas | Reuters  
Sudanese authorities have taken control of lucrative assets that for years provided backing for Hamas, shedding light on how the country served as a haven for the Palestinian militant group under former leader Omar al-Bashir. The takeover of at least a dozen companies that officials say were linked to Hamas has helped accelerate Sudan's realignment with the West since Bashir's overthrow in 2019. Over the past year, Khartoum has won removal from the U.S. state sponsors of terrorism (SST) list and is on course for relief of more than $50 billion in debt. Hamas has lost a foreign base where members and supporters could live, raise money, and channel Iranian weapons and funds to the Gaza Strip, Sudanese and Palestinian analysts said.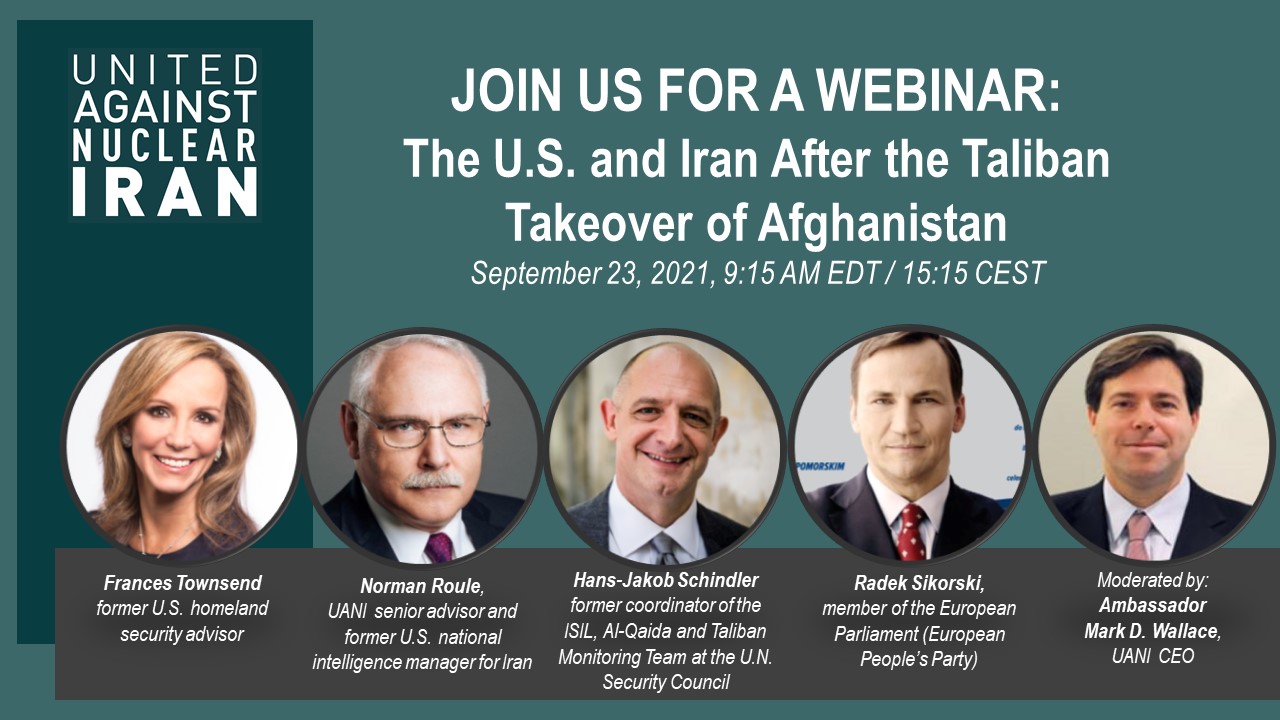 NUCLEAR DEAL & NUCLEAR PROGRAM 
'Very Clear Intent' By Iran To Return To Nuclear Talks, Ireland Says | Reuters 
Iran's foreign minister expressed a "very clear intent" to return to nuclear talks in Vienna, Ireland's foreign minister said on Wednesday after meeting with his Iranian counterpart on the sidelines of the United Nations General Assembly. "That may not happen for a number of weeks, as the new Iranian government finalizes their approach towards those negotiations. But certainly, he expressed a very clear intent to return to those negotiations," Simon Coveney, Ireland's foreign minister, told reporters.
SANCTIONS, BUSINESS RISKS, & OTHER ECONOMIC NEWS   
Iran's Membership In Asian Security Body Won't Solve Sanctions Problem | Al Monitor 
The recent announcement that Iran would start the process of becoming a full member in the Shanghai Cooperation Organization was celebrated in the media. On the Iranian side, a heated public debate is taking place on what this development means and whether it was an achievement of the previous or the current administration. There are also debates about the potential economic upside of the step, which a number of parliamentarians have opined will open up new economic opportunities for Iran. 
Iran Looks To Attract $145 Billion In Oil Investment | Oil Price 
Iran is drafting plans to attract as much $145 billion domestic and foreign investments in its oil industry over the next eight years, Iranian Oil Minister Javad Owji said on Tuesday. "We plan to invest $145 billion in the development of the upstream and downstream oil industry over the next four to eight years, hence I welcome the presence of domestic and foreign investors in the industry," Owji, the new oil minister, said during a meeting with executives from China's oil giant Sinopec, as carried by the Iranian oil ministry's news service Shana. Iran is also working to boost cooperation with Chinese companies, the minister added. 
PROTESTS & HUMAN RIGHTS 
Iranian Witness To Torture Of Wrestler Navid Afkari Killed | The Jerusalem Post
A witness to the sustained torture of the champion Iranian wrestler Navid Afkari died under mysterious circumstances in solitary confinement on Tuesday in Greater Tehran prison, according to his family. The US government media outlet Radio Farda reported on the death of Shahin Naseri and said it obtained his latest audio message from inside the Tehran prison. Naseri said he was an "eyewitness to medieval torture" of Navid Afkari. 
U.S.-IRAN RELATIONS & NEGOTIATIONS 
New Yorkers Protest Against Iran As Raisi Addresses UN | The Jerusalem Post
Several eye-catching trucks carrying billboards drove around New York City on Tuesday, with messages calling out Iranian President Ebrahim Raisi and his administration for their human rights abuses, ahead of Raisi's address at the 76th UN General Assembly. "Ebrahim Raisi must be investigated for crimes against humanity," and "a government of designated terrorists," were some of the bold banner messages seen around Manhattan in a video posted on Twitter by Iranian Americans for Liberty. 
MILITARY/INTELLIGENCE MATTERS & PROXY WARS 
How Chinese Ballistic Missiles And Iranian Drones Popped Up In Ethiopia's Civil War In Tigray | Sebastien Roblin For The National Interest
Since November 2020, a complex and tragic civil war has raged in the Tigray region of Ethiopia pitting Tigrayans, led by Ethiopia's former ruling elite, against Ethiopia's federal government and the Eritrean military, which has intervened in support of Addis Ababa. Fighting has already killed thousands of combatants and civilians and displaced over 1.7 million people. Amidst reports of atrocities, indiscriminate airstrikes, regional spillover, and dramatic battlefield reversals, the escalating conflict was marked in its early days by long-distance attacks by advanced missile and artillery systems imported from China.
IRANIAN INTERNAL DEVELOPMENTS 
Striking Photos Of A Lesser-Seen Iran | BBC News 
She looks directly out at us, her shoulders back. Her gaze is self-possessed, bordering on supercilious; her patterned headscarf is immaculately styled, showing off her bleach-blonde locks to best advantage. The balloon of bright-pink bubble gum floating in front of her mouth contrasts with her stonewashed denim jacket. She appears to be wearing blue contact lenses; her eye make-up is, of course, immaculate. On the bridge of her nose, a dainty little plaster is visible – evidence, presumably, that an expensive cosmetic surgeon is on speed-dial. Whoever this woman is, she is way more streetwise than most of us could ever hope to be. 
Iran Eyes Normalisation As COVID Vaccination Drive Accelerates | Al Jazeera 
The rollouts of Iran's vaccination campaign against COVID-19 has gathered significant pace, after months of public anger about slow imports, raising hopes of a relative return to normal life in the Middle East's worst-hit country. More than 30 million jabs alone were imported during the sixth month of the Iranian calendar which ends on Wednesday – higher than all doses imported since the start of February combined. Another 13.4 million doses were imported in the previous Iranian month, in the middle of which President Ebrahim Raisi took office. 
IRAQ & IRAN 
Are Iranian Threats To Escalate In Iraqi Kurdistan More Hot Air? | Al Monitor 
Iran's demands for US forces to withdraw from a critical air base in Iraqi Kurdistan coupled with threats to expand operations against "American and Zionist mercenaries" are sending jitters across the Kurdish enclave, with many asking how far Tehran will go and what, if anything, the United States will do to stop it. Mohammed Bagheri, senior commander in the Islamic Revolutionary Guard Corps and chief of staff of Iran's armed forces, appeared to be emboldened by America's controversial withdrawal from Afghanistan, calling it "a defeat and an embarrassment worse than Vietnam." 
CYBERWARFARE
Iran May Be Behind Cyberattack On Company Serving Major Names In Israeli Tech, Experts Say | Haaretz 
A supposed ransomware attack against the Israeli call center service company Voicenter earlier this week point to motives beyond money, experts said, including possible Iranian involvement.  In a widely distributed text message, the company said that on Saturday "a cyberattack on our systems was discovered which was executed by a group of foreign hackers, but to the best of our knowledge no data was leaked from the organization during the incident."