Leading NGO Urges Trump Administration to Stay Strong on Iran
New York, NY – United Against Nuclear Iran (UANI) today announced the launch of a new campaign intended to encourage the Trump Administration not to grant sanctions waivers for businesses interested in engaging with Iran following the second reimposition of sanctions on the world's leading state sponsor of terrorism. UANI launched the "Maximum Pressure" campaign with a full-page ad running in today's print edition of The Hill newspaper.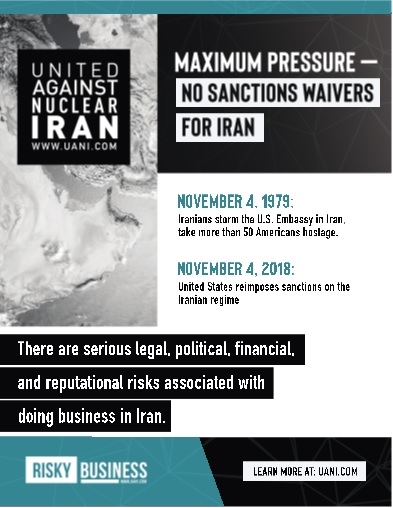 "Since the founding of our organization, we have worked to encourage businesses around the world to stop engaging with Iran, the world's leading state sponsor of terrorism.  While the Trump Administration made the right decision to withdraw from the existing Joint Comprehensive Plan of Action (JCPOA), the Maximum Pressure campaign is intended to ensure that they do not grant sanctions waivers for U.S. businesses reluctant to withdraw from Iran," said UANI President David Ibsen.  
UANI recently commemorated the 10th anniversary of the organization's founding with their Iran Summit in New York. To memorialize this milestone, the organization today released a web video featuring highlights from the event, including remarks by Hon. Michael R. Pompeo, Secretary of State of the United States; Ambassador John R. Bolton, National Security Advisor to President Donald J. Trump, Former U.S. Ambassador to the United Nations; Hon. Brian Hook, Special Representative for Iran and Senior Policy Advisor to the Secretary of State; Senator Joseph I. Lieberman, Chairman of UANI, Former U.S. Senator (I-CT) and 2000 Democratic Vice Presidential Nominee; and Ambassador Mark D. Wallace, CEO of UANI, Former U.S. Ambassador to the United Nations for Management and Reform.
To learn more about UANI, please visit: https://www.unitedagainstnucleariran.com/