A protest movement is sweeping Iran in the aftermath of the killing of Mahsa Amini at the hands of the so-called "morality police." UANI's Eye on Iran's Protests is a daily news and events round-up to increase awareness of this movement and the regime's brutal response. Now is the time to support the Iranian people.
As the Iran protests continue, over 240 people have been killed, with thousands more injured and detained.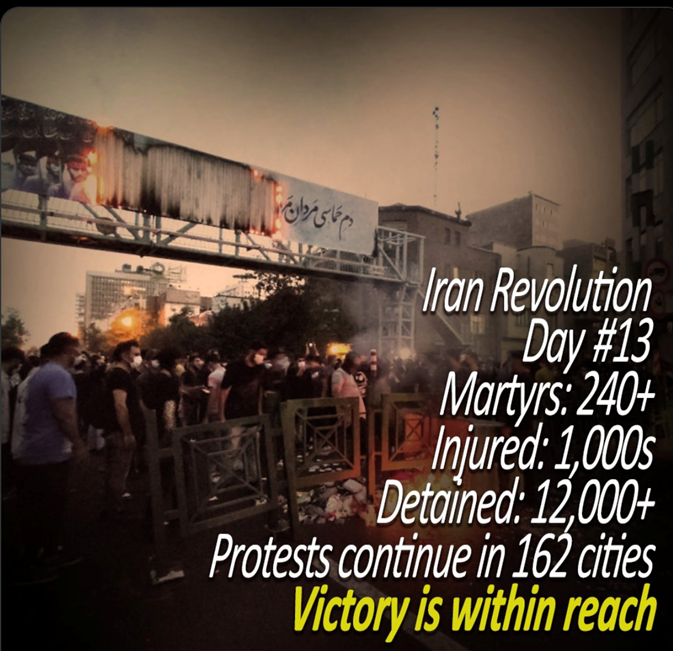 Women waved their compulsory hijab in the air on the street in Sanandaj, Kurdistan Province, western Iran.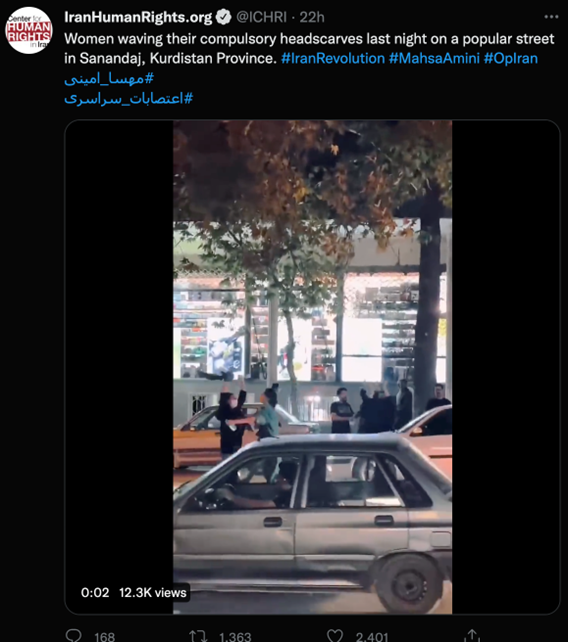 Protests took place at Iran's Shiraz University of Medical Sciences.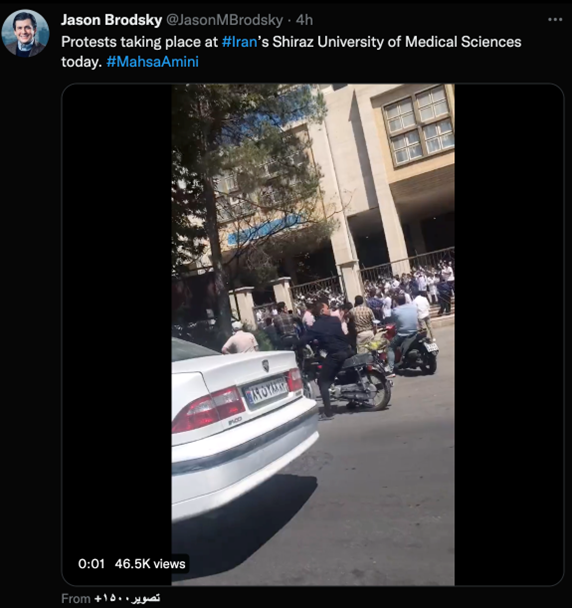 Students at Isfahan University went on strike for a second day to protest against dozens of fellow university students who were arbitrarily arrested in recent days.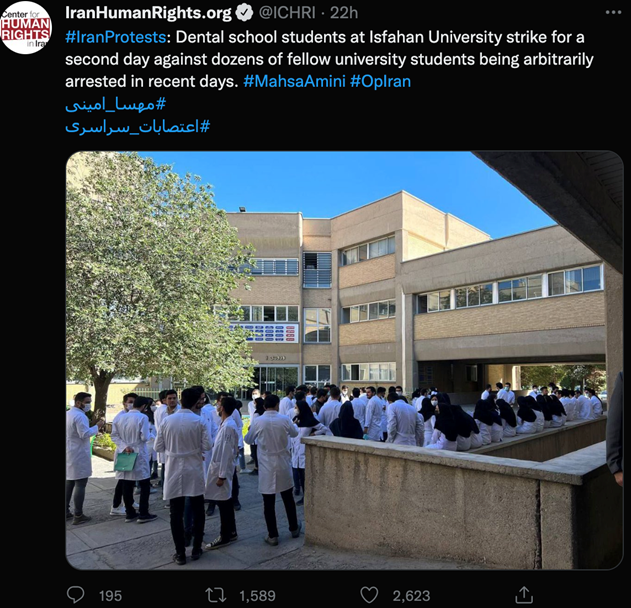 Students at Sepehr University went on a strike in support of the protest movements.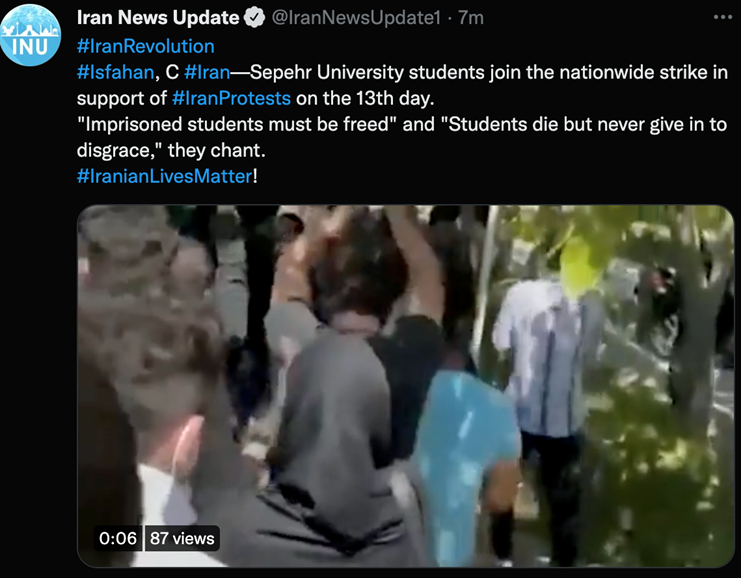 Video footage shows Iranian protesters facing down security forces.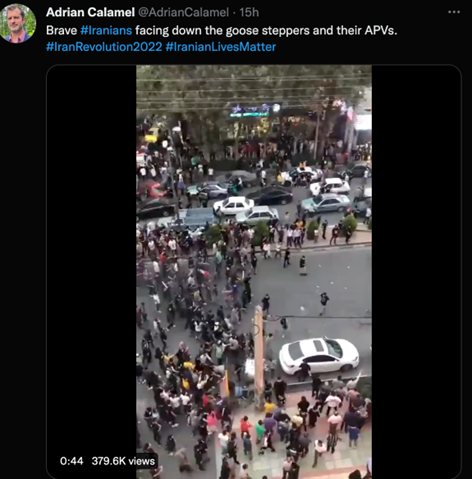 This video shows a street crowded with protesters. A security vehicle appears to flee from the scene.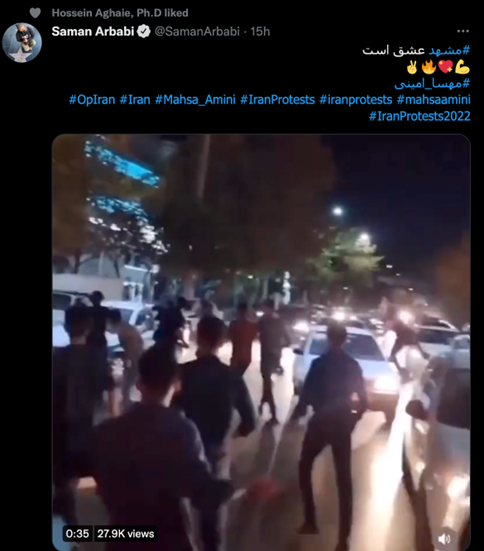 Iran Footballers Show Solidarity With Protests Over Mahsa Amini's Death | The Guardian
Iranian soccer players all wore black jackets to cover up their national symbols as the national anthem played at a friendly match versus Senegal.
Iranian protesters set fire to a billboard reportedly depicting the supreme leader.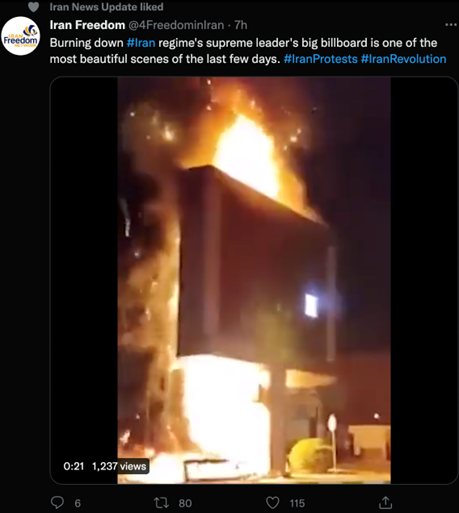 Iran Targets Celebrity Supporters of Protests as Movement Spreads | Wall Street Journal
The Wall Street Journal reported that the Iranian regime is targeting celebrities who have supported the protest movement. Actors, directors, artists, poets, and sports professionals are among those who are being threatened with criminal action, suspension of their licenses, and cancellation of contracts.
Iran: At Least 33 Journalists In Jail While The World Marks #AccessToInfoDay | Reporters Without Borders
Reporters Without Borders reported that, since September 16, 19 journalists have been arrested and detained in Tehran. Prior to September 16, at least 14 journalists were in jail.
A Hacked Letter Shows Iran Officials Knew Hijab Victim's Injury | Iran International
Contrary to regime officials' account of Mahsa Amini's death, a hacked letter written by an assistant prosecutor in Tehran revealed that authorities knew that Amini had sustained head injuries during her arrest. The letter suggests that the injuries were accidental, and could be an attempt to absolve the police of responsibility for her death.
'Too Early To Tell' If Iran Protests Will Sink Regime | Politico
An analyst at Politico points out that it is "too early to tell" whether the protests will result in regime-change. He notes that such an outcome may depend, in part, on whether all walks of life join in the protests.
Iran Protesters Seek End of an Islamic Republic Pillar—the Morality Police | Wall Street Journal
A 45-year-old house wife who was picked up by the morality police called for systemic change in Iran. "The problem is the system," she said. "The whole system should shut down." 
Iran's Morality Police Disappears From Streets After Dozens Killed In Protests | Financial Times
Iran's morality police reportedly reduced their presence on the streets.
BBC Persian | هنر اعتراضی" این روزهای ایران"
Dozens of songs, paintings, and performances have been produced to commemorate the death of Mahsa Amini.