Eye on Iran's Protests - September 27, 2022
September 27, 2022
A protest movement is sweeping Iran in the aftermath of the killing of Mahsa Amini at the hands of the so-called "morality police." UANI's Eye on Iran's Protests is a daily news and events round-up to increase awareness of this movement and the regime's brutal response. Now is the time to support the Iranian people.
As the protests in Iran continue, 240 people have been killed, with thousands more injured and detained. The Internet remains shut down.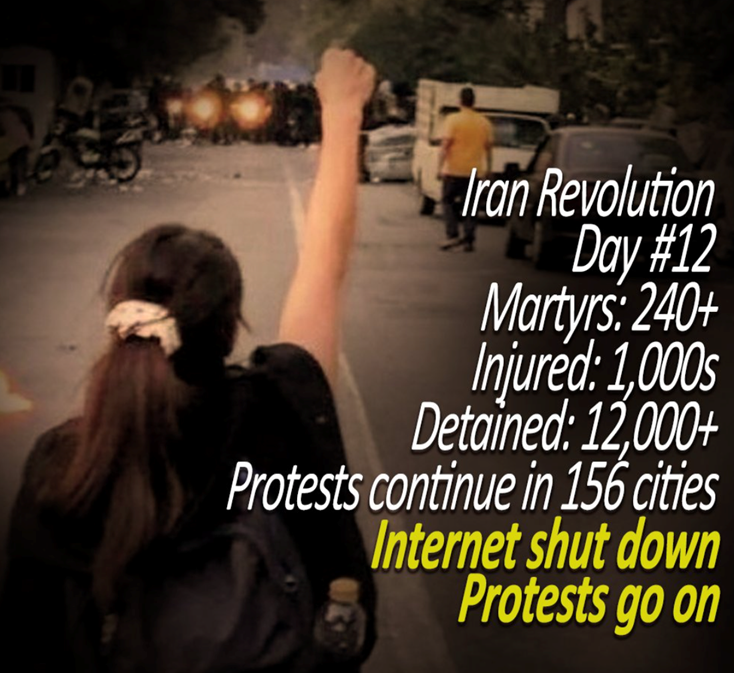 Iranian Lawmaker Slams Protesters; Cleric Appeals For Calm | Associated Press
Hardline Iranian lawmaker from Tehran Mahmoud Nabavian referred to female protesters who have taken off their mandatory headscarves as prostitutes.
Marjane Satrapi, author of Persepolis, argued on CNN that young Iranians want democracy, and that they stand in solidarity with women's rights.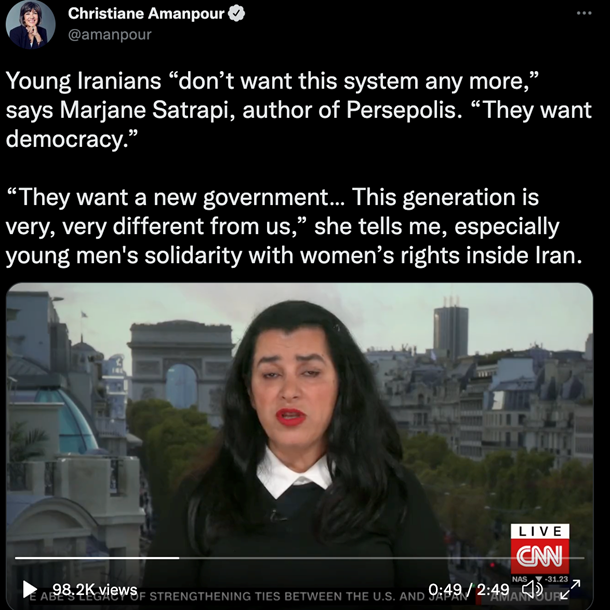 Thousands of women protesters marched in Rojava—the Kurdish northeastern region of Syria—in solidarity with Mahsa Amini. They chanted "freedom to all women of the world."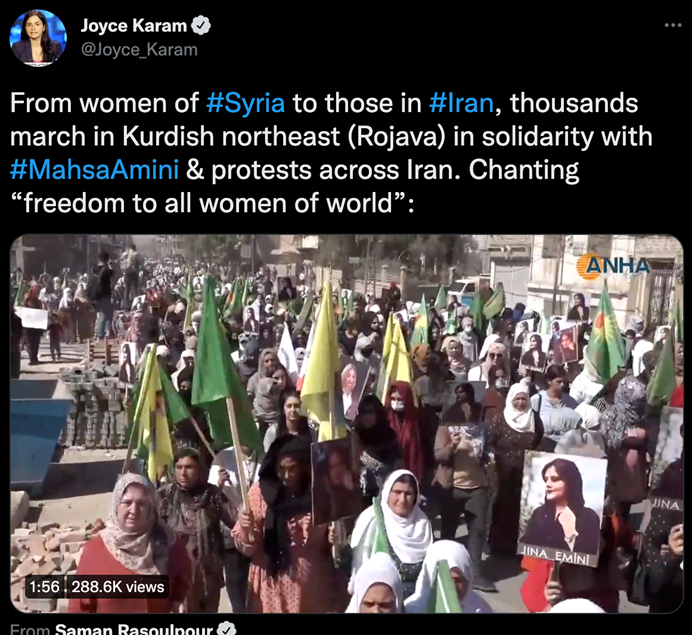 Biden's Support for Iran Protesters Comes After Bitter Lessons of 2009 | New York Times
The New York Times suggested that President Biden's approach to the protests in Iran differs from that of former President Barack Obama during similar protests in 2009. Unlike President Biden, President Obama "hesitated to back the anti-government movement," the New York Times reports. The New York Times also reported that there were "hints" the Biden administration was looking at ways to get Starlink—Elon Musk's satellite internet provider—into the hands of protesters.
The New York Times posted video footage of women leading the protests in Iran. Some of them cut their hair in public to display their opposition to the regime and its hijab mandates.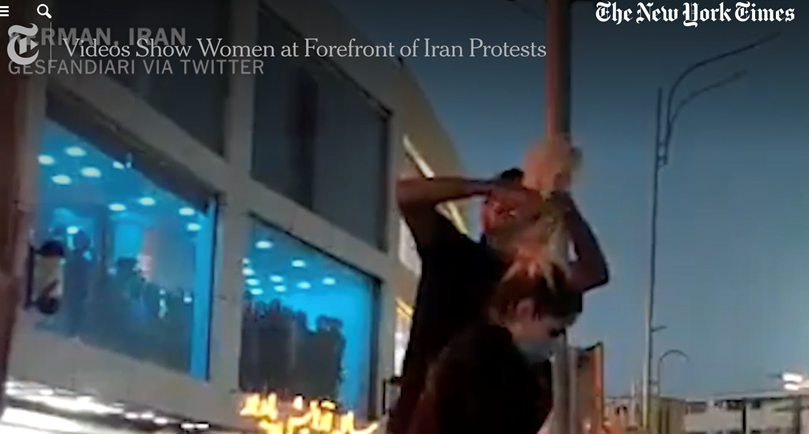 Families Urged to Report Arrested Loved Ones as Up to 3,000 Detained in Tehran | Iran Wire
Iran Wire sources report that 3,000 people have been taken to the notorious Evin Prison since the beginning of the protests.
Protesters gather in Qom, Iran, the center of Shia Islam in Iran.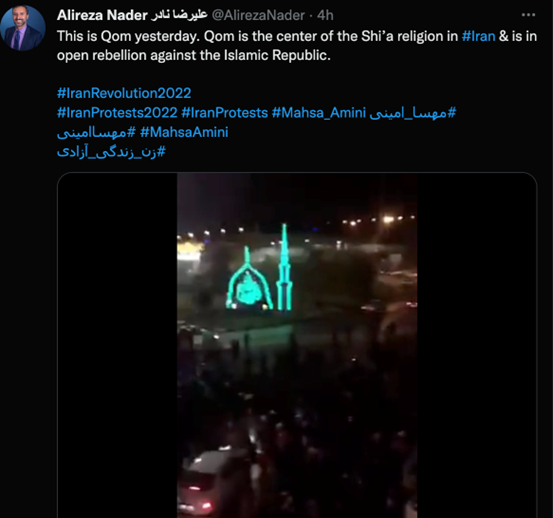 Spectators of a soccer match at Azadi stadium in Tehran, Iran chanted "Mahsa Amini."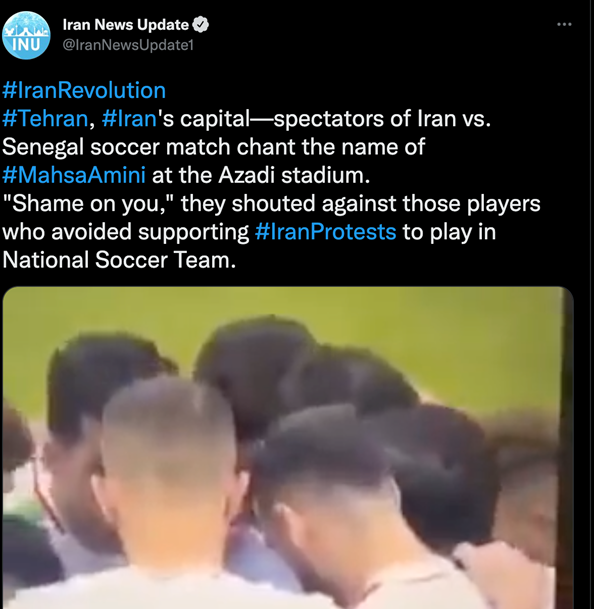 Iran Protester: 'They Said If We Didn't Keep Quiet, They Would Rape Us' | BBC
One imprisoned protestor described her time in prison, saying: "After almost a day, when we shouted and protested inside the room, they started threatening us that if we didn't keep quiet, they would rape us." The prisoners were reportedly deprived of food.
Women Take Center Stage in Antigovernment Protests Shaking Iran | New York Times
Iran's protests have "fed on a range of grievances: collapsing economy, brazen corruption, repression and social restrictions handed down by elderly clerics."
IRGC-linked news outlet Tasnim News reported that the authorities arrested Faezeh Hashemi, daughter of ex-president Akbar Hashemi-Rafsanjani.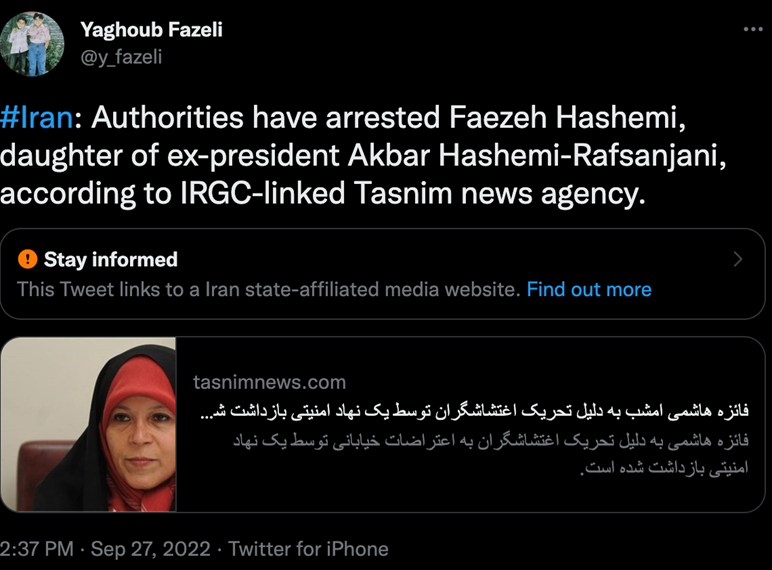 Iran Security Forces Clash With Protesters Over Amini's Death | Reuters
Iran's riot police and security forces clashed with protesters in dozens of cities, including Tehran, Tabriz, Karaj, Qom, Yazd, and many others.
The Protests Won't Lead To Regime Change, Iran's Foreign Minister Tells NPR | NPR
Iran's foreign minister Hossein Amir-Abdollahian, who remained in New York City as late as yesterday, downplayed and deflected attention away from the protests in Iran in an interview with NPR.
Iran's security forces beat up an unarmed female protester.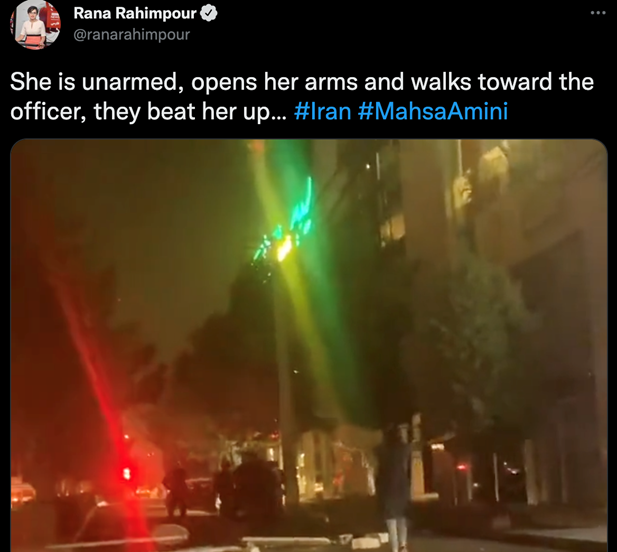 Receive Iran News in Your Inbox.
Eye on Iran is a news summary from United Against Nuclear Iran (UANI), a section 501(c)(3) organization. Eye on Iran is available to subscribers on a daily basis or weekly basis.