A protest movement is sweeping Iran in the aftermath of the killing of Mahsa Amini at the hands of the so-called "morality police." UANI's Eye on Iran's Protests is a daily news and events round-up to increase awareness of this movement and the regime's brutal response. Now is the time to support the Iranian people.
As the protests in Iran continue, there are over 200 martyrs and over a thousand injured. The protests have spread to 154 cities across Iran, with the Internet still shut down.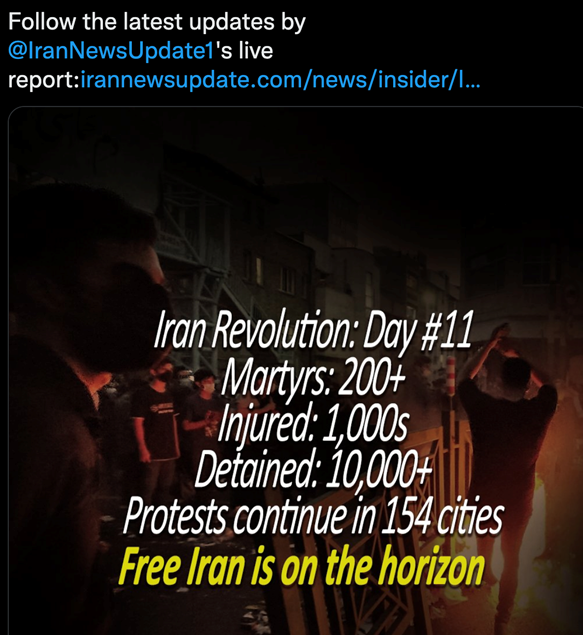 Iran's Chief Justice Mohseni Ejei said that Iran's security forces haven't slept for days and are suffering from low morale.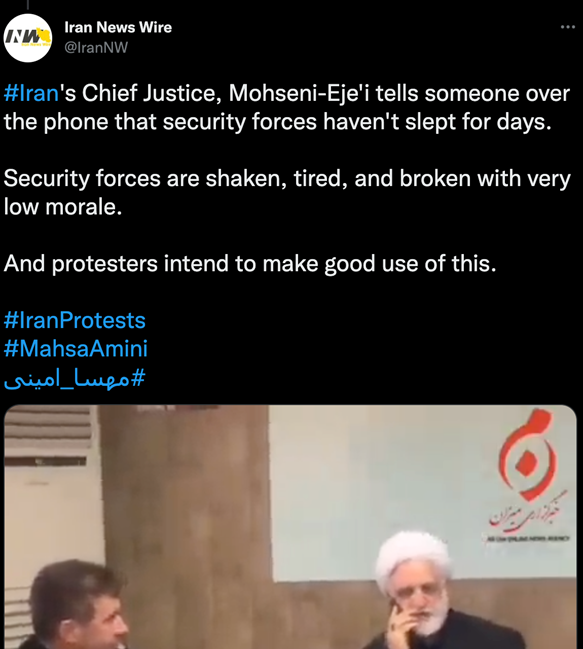 Prison Guards Beat Iranian Freedom Activist, Break His Leg | Iran International
Security agents raided the house of activist Hossein Ronaghi after his interviews and posts in support of the protests. He was arrested, imprisoned, and beaten.
An Iranian woman removed her hijab in front of security forces. They brutally attacked and arrested her.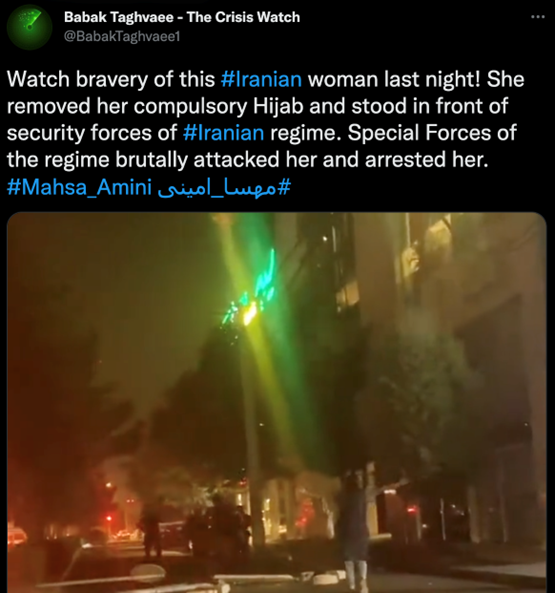 Iran Strikes Kurdish Separatist Groups in Northern Iraq | New York Times
For the second time in three days, the Islamic Revolutionary Guard Corps attacked what Tehran says are bases of militant Iranian Kurdish separatists in the Kurdistan region of northern Iraq.
Iran's security personnel brutalized three women in the dark streets of Tehran.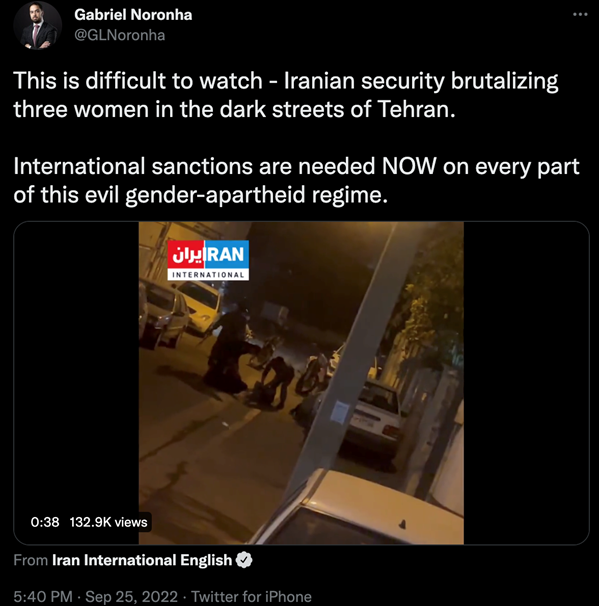 Iran's Ferocious Dissent | New York Times
New York Times columnist David Leonhardt points out that the rise of hardliners in Iran's government, as well as the ailing economy, have contributed to dissatisfaction with the government, especially among Iran's youth population.
Iranian Embassy: Protesters Clash With Police In London | BBC
Protestors clashed with police officers outside the Iranian embassy in London.
Protestors in the Kurdistan province of Iran chanted "Reza Shah, bless your soul," in reference to Mohammad Reza Pahlavi, the leader of Iran prior to the Islamic Revolution.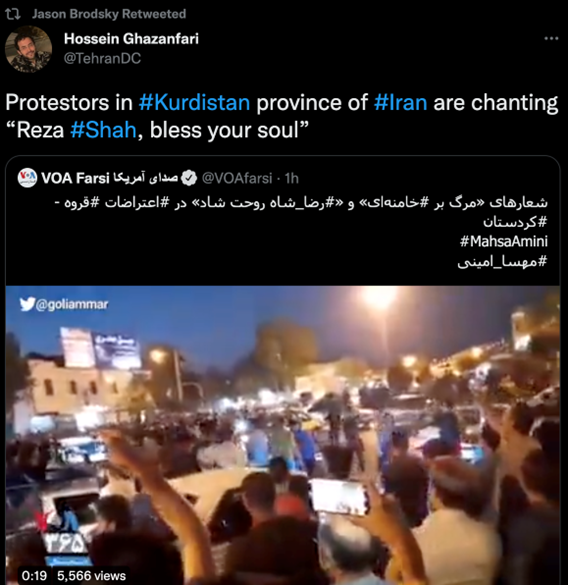 A protestor in Iran told the Guardian, "The People of Iran have woken up, the regime cannot censor our voices…The world should show the cruel face of this regime. We call on the West to sanction this regime."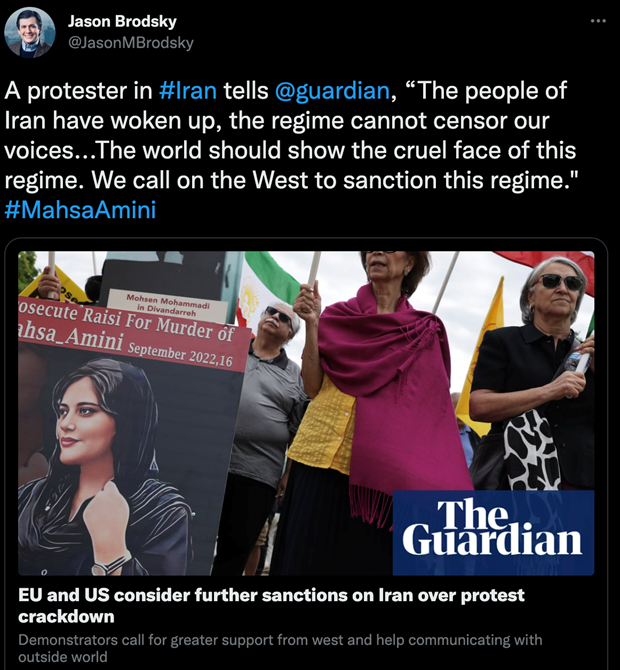 Watch: Iranians Clash With Police During Violent Wave of Protests | The Wall Street Journal
The Wall Street Journal posted footage of Iran's protests.
Protestors cornered an Iranian diplomat in London and demand that he say "down with Khamenei."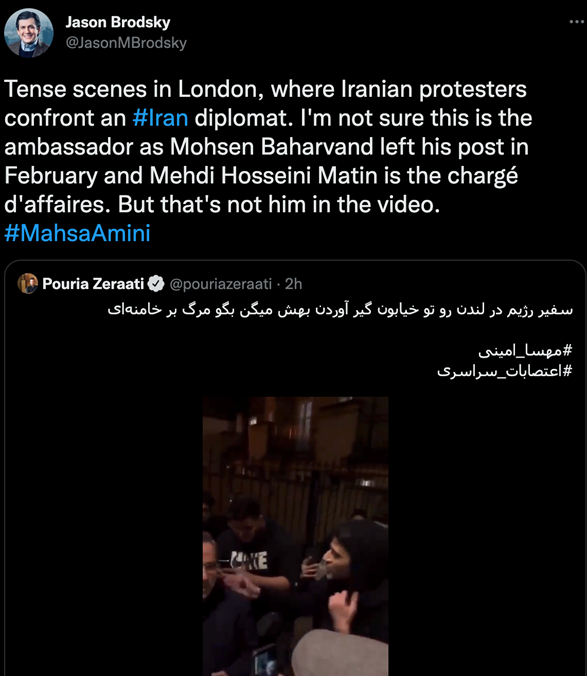 Iran President Threatens 'Decisive' Response As Protests Continue | Washington Post
Iran's president threatened a "decisive" response to the protests.
The sister of a protestor killed last week shouted at her brother's funeral: "this national will avenge this blood. We will not forget this blood. The same way we didn't forget Mahsa's blood and the blood of other young people."