Eye on Iran's Protests - May 25, 2023
May 25, 2023
Iran executed three prisoners in connection with the Women, Life, Freedom movement, adding to the total of over 500 people killed by the regime since September 2022. Meanwhile, protests cropped up across the country over the past week and in the diaspora community.
This map depicts the location of protests across Iran over the past week.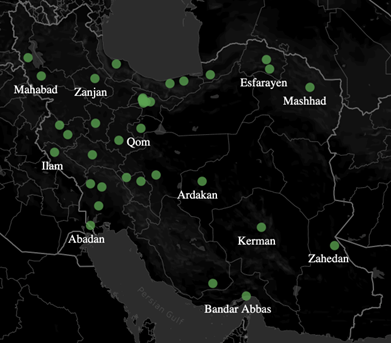 At least seven individuals in Iran are under sentence of death in connection with protests, while dozens of others are at risk of being sentenced to death.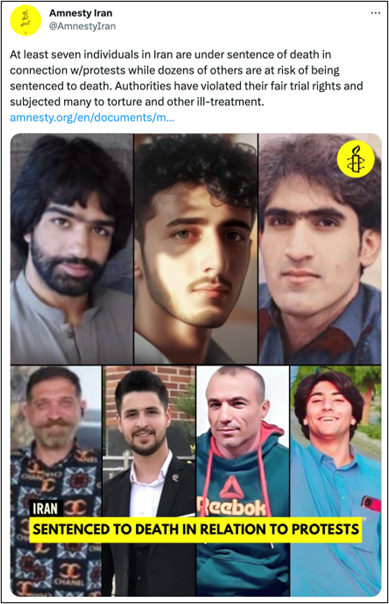 Several well-known female political prisoners, including Sepideh Gholian, Bahareh Hedayat, Faezeh Hashemi, and Narges Mohammadi, participated in a rare political protest inside Evin Prison, with each issuing statements condemning the wave of executions.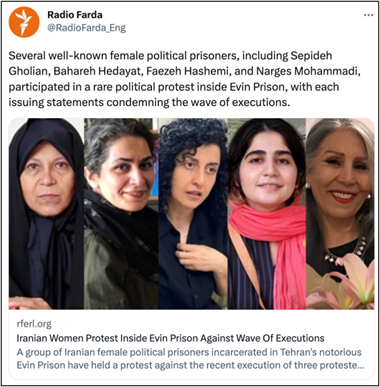 Vandals attacked Mahsa Amini's grave. Amini's death while in custody of the morality police in September 2022 sparked the Women, Life, Freedom movement.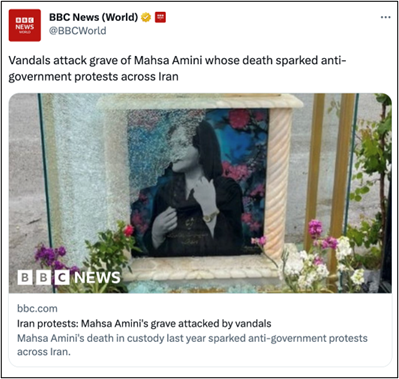 Last weekend, protests rocked the streets of Iran. Gilan, Isfahan, Khuzestan, Kermanshah, and Tehran witnessed anti-regime protestors calling for the fall of the Islamic Republic.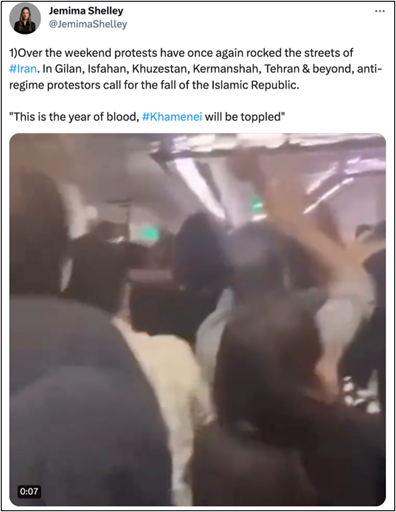 While Iranians are calling for regime-change, UN Human Rights Chief Volker Turk said "I urge the [Iranian] government to heed Iranians' calls for reform."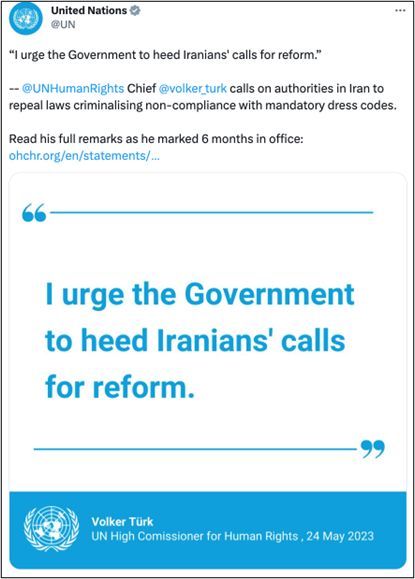 Saeed Yaghoubi, 37, Saleh Mirhashemi, 36, and Majid Kazemi, 30, were executed for their participation in the Women, Life, Freedom movement after sham trials.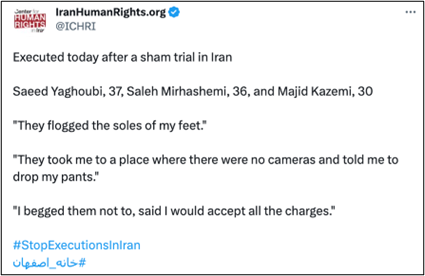 Iran Executes Three Men Connected to Anti-Government Protests | Washington Post

Iran executed three men in connection with the anti-government protest movement that swept the country beginning last year. Amnesty International, citing "informed sources," found that interrogators had "suspended Majid Kazemi upside down and showed him a video of them torturing his brother, whom they also detained," and subjected him to "mock executions at least 15 times by standing him on a chair and putting a rope around his neck."
The three young protesters hanged by the Islamic Republic in Iran were buried in secret, and their families were allowed only one hour at their gravesites, as regime thugs surrounded and harassed them.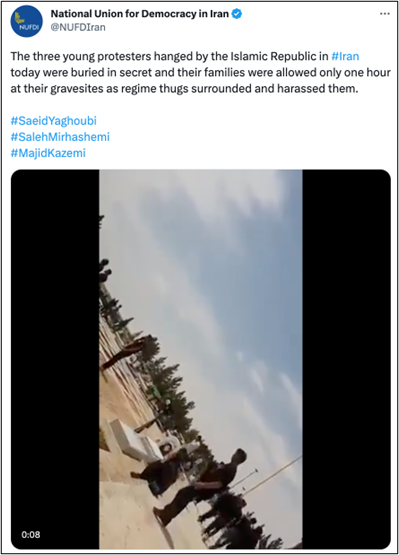 Because of the fatwa issued against him by an Iranian cleric, Vahid Beheshti had to move into a safehouse in the UK.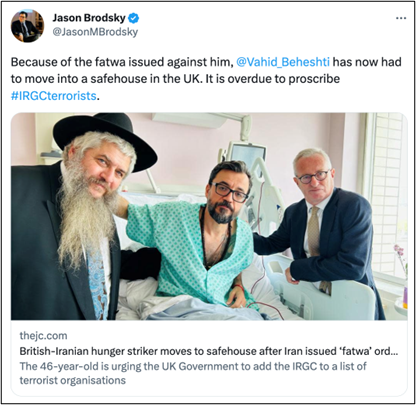 The Iranian-Nordic diaspora gathered in Gothenburg, calling for the designation of the IRGC as a terrorist organization.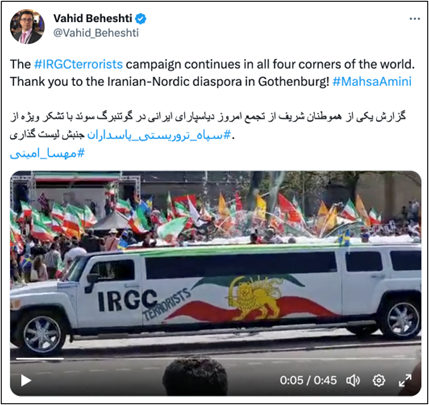 Toronto's Iranian community, the second largest in the diaspora, marched out of Queen's Park and down the streets of Toronto.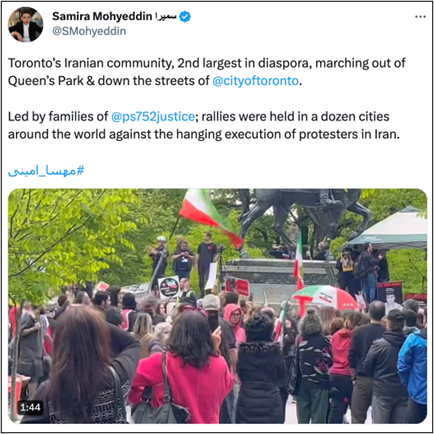 The Supreme Court of Iran has upheld the death sentence of Mohammad Ghobadloo, who was arrested during the 2022 nationwide protests.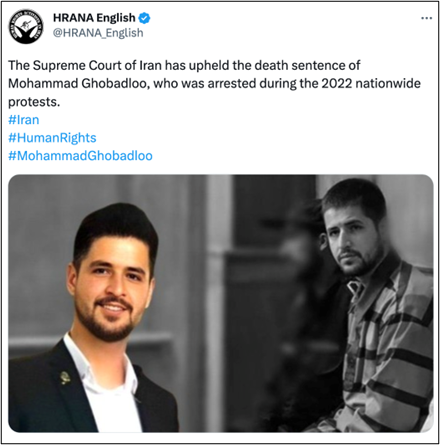 Niloufar Hamedi and Elaheh Mohammadi, the two Iranian journalists jailed for reporting the death of Mahsa Amini in police custody, will stand trial next week.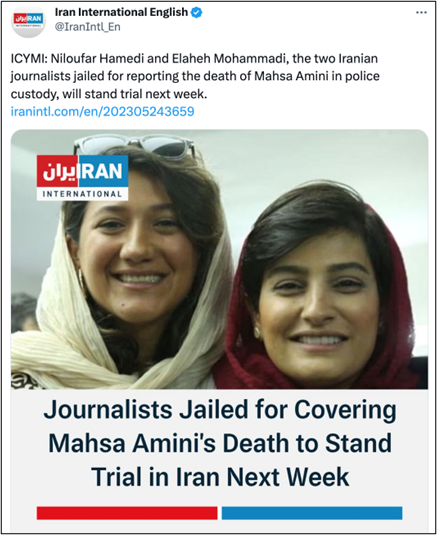 Anti-regime protests organized by Iranian university students have increased in recent weeks, demonstrating the regime's failure to suppress a key demographic of the Mahsa Amini movement.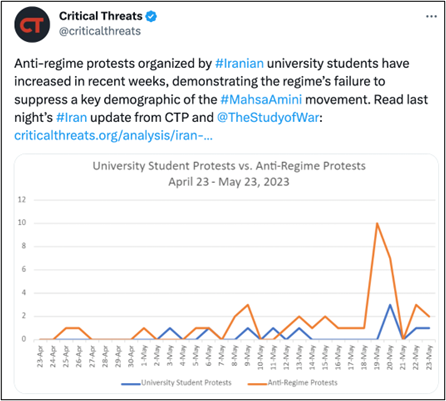 U.S. Permanent Representative to the United Nations Human Rights Council (UNHRC), Ambassador Michèle Taylor, voiced her opposition to Iran's Foreign Minister, Hossein Amir-Abdollahian, potentially serving as Chair of the Social Forum in November.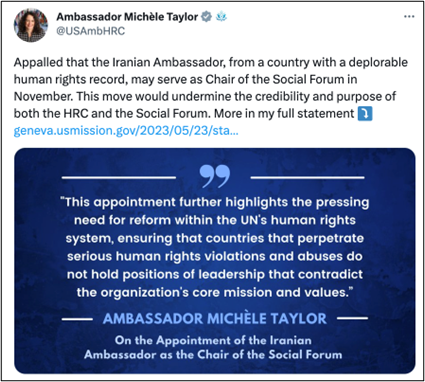 After facing pressure from activist groups, the UNHRC fact-finding mission on Iran issued its first statement. They were completely silent since being created back in November.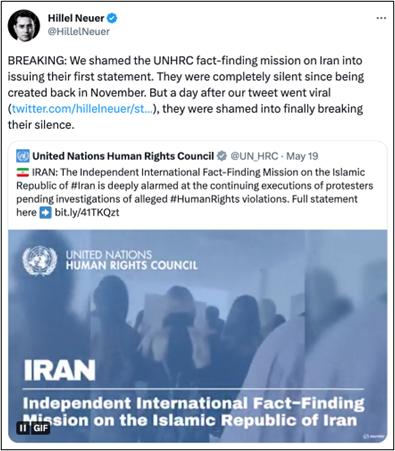 The Raisi Administration introduced a "Chastity and Hijab" bill to Iran's parliament, outlining severe penalties for women who violate mandatory headscarf rules.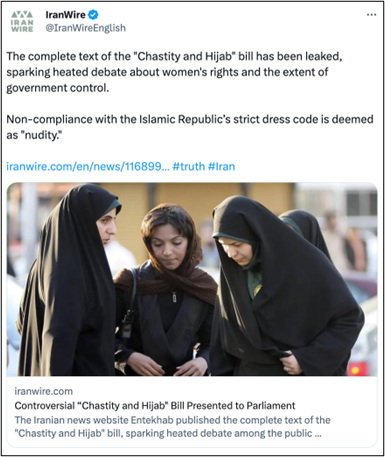 Iran Wire obtained audio files from Tehran's Evin prison, Iran's most notorious jail, exposing the very dangerous health conditions in which women locked in ward 209 are living.