Eye on Iran's Protests - March 9, 2023
March 9, 2023
In the 175 days since the Women, Life, Freedom movement enveloped Iran, the regime has killed 530 people, including 71 children, and wounded, arrested, detained, and tortured countless others. Over 5,000 people are believed to be being held in Iran's brutal prison system in connection to the movement, with thousands more facing charges. Iranian youth have been blinded, raped, and now they are being attacked with toxic gas—because the regime perceives them as a threat to their rule. On some counts, 7,000 girls have been poisoned by toxic gas since November 2022.
The following map highlights the cities in which protest-related incidents (gatherings, strikes, arrests, and deaths) took place yesterday.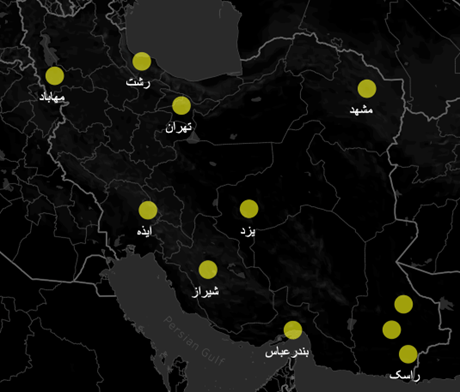 The poison attacks on school students have been reported in at least 103 cities across 29 provinces. Tehran province recorded the highest number of incidents with 33, followed by Qom with 28 and Ardabil with 26. This map depicts the distribution of these attacks.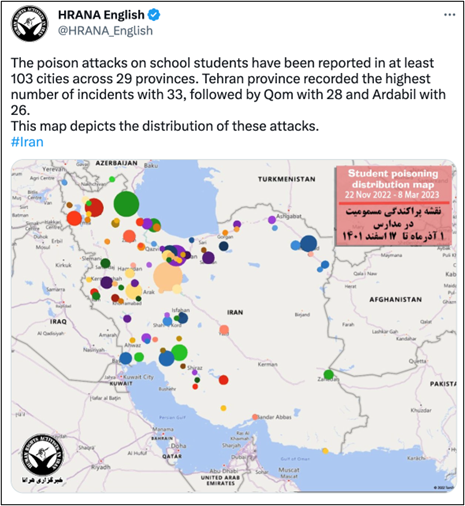 A poison attack occurred at a girl's school in Tehran.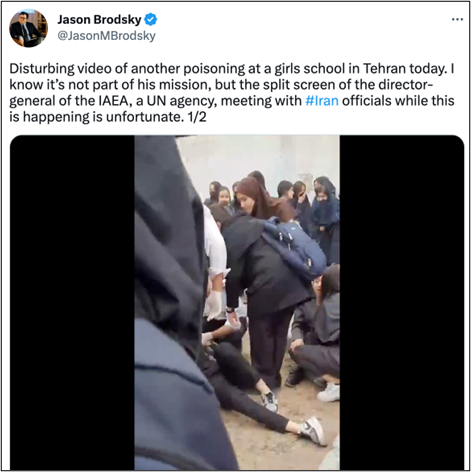 Iranian teachers protested against the waves of poison attacks inflicted on schoolgirls.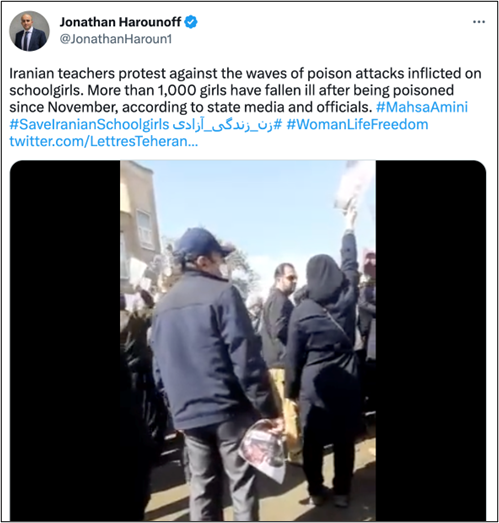 The families of poisoned students protested in Tehran, chanting "death to the child-killing regime."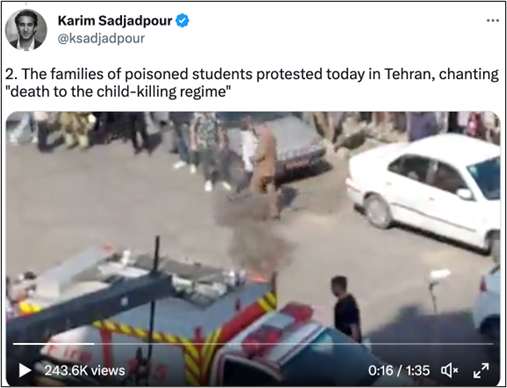 Members of the violent, youth paramilitary group known as the Basij accosted protesters at Allame Tabatabaei University, saying they all should be expelled. The Basij is well-organized and represented at colleges across Iran, with branches devoted to countering campus activism.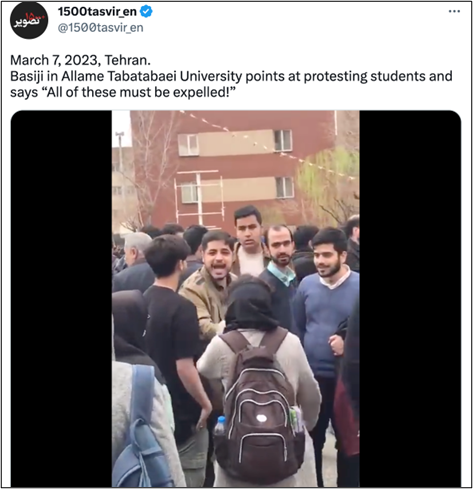 Last Friday, thousands of protestors stormed the streets of Zahedan, calling for a swift end to the theocratic regime in Iran. This was Zahedan's 22nd consecutive large-scale protest on Friday, a holy day in Islam.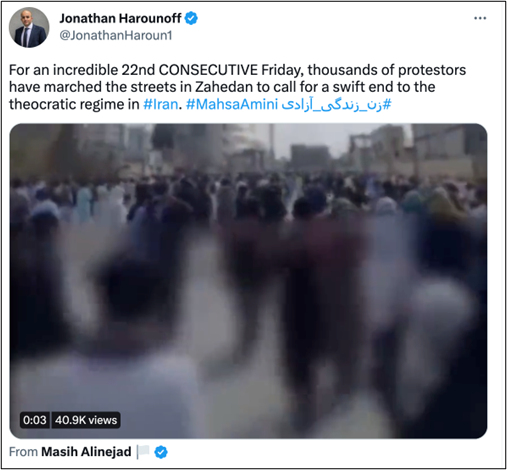 Violence broke out as protesters in Zahedan faced off against regime security forces.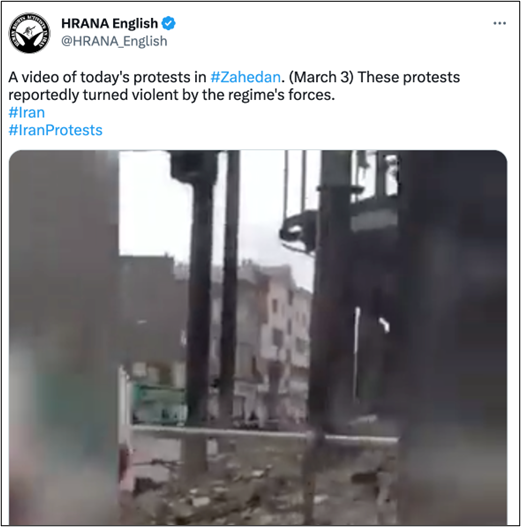 The European Parliament will debate the poisoning of schoolgirls in Iran Wednesday next week, followed by a resolution. This provides another important opportunity to raise awareness about the repression in the country—and the brave opposition to it.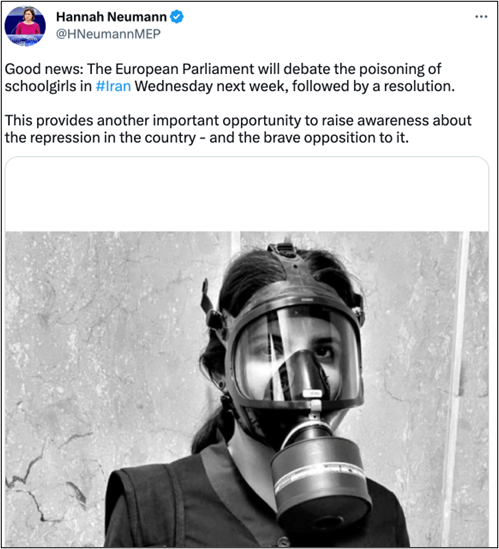 A group of Iranian expatriates gathered outside the office of U.S. Special Envoy for Iran Robert Malley in Washington, D.C. to demand his dismissal. Many members of the Iranian diaspora community believe that continuing nuclear negotiations with Tehran is a betrayal of the Women, Life, Freedom movement.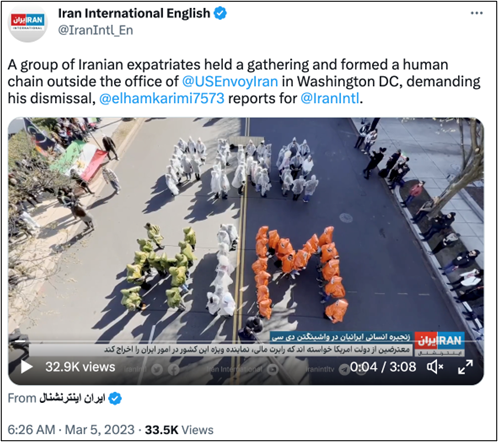 Plainclothes officers brutally detained a schoolgirl.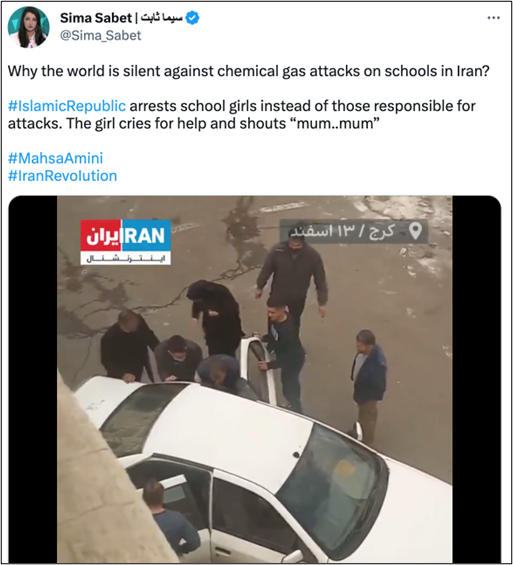 Activists condemned the Islamic Republic of Iran as a gender apartheid, noting that women are banned from many fields of study, sporting events, obtaining a passport, and traveling outside the country without their husband's permission. Women's lives and testimony are worth half that of a man's under the law.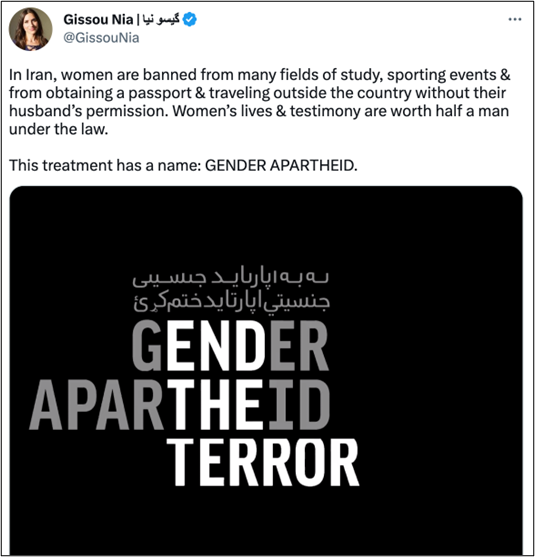 Forty-four years ago, on International Women's Day in Iran, large-scale protests erupted in Tehran in response to then-Supreme Leader Khomeini's announcement that women would be required to wear veils at work.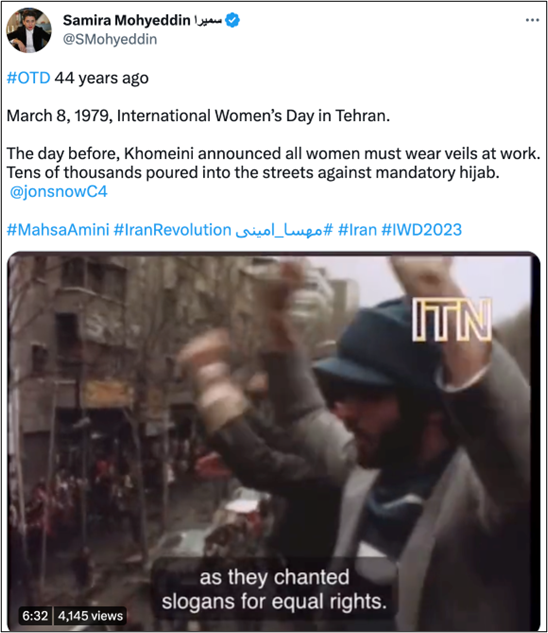 Advocates for the MAHSA Act—a bill in Congress that proposes imposing sanctions on the Supreme Leader of Iran and the President of Iran and their respective offices for human rights abuses and terrorism—are helping make Iran policy more bipartisan. The latest count is 24 Democrats and 27 Republicans co-sponsoring—progressives to conservatives.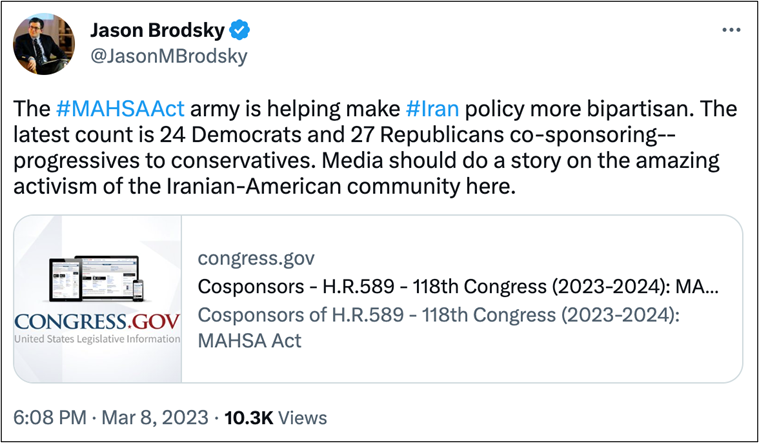 Receive Iran News in Your Inbox.
Eye on Iran is a news summary from United Against Nuclear Iran (UANI), a section 501(c)(3) organization. Eye on Iran is available to subscribers on a daily basis or weekly basis.