For a list of suggested targets for human rights sanctions, see UANI's resource "Iran Human Rights Abusers Who Should Be Sanctioned Now."
Revolutionaries called for protests across Iran on January 19th and 20th.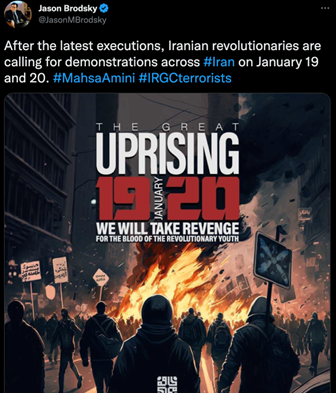 Mourners gathered for the 40th anniversary of someone killed protesting in Iran.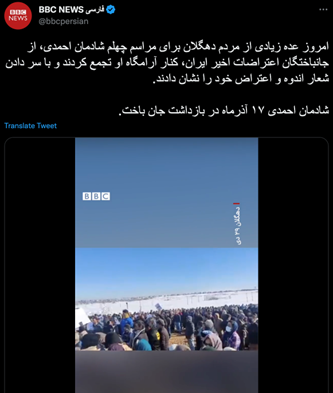 A group of Iranian citizens held a gathering east of the capital Tehran on Tuesday night to commemorate anti-government protester Mohsen Shekari who was executed by the regime in December.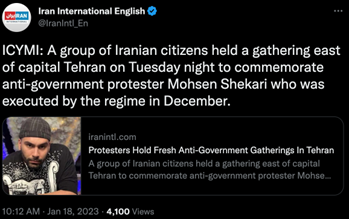 The IRGC has blocked all roads leading to Zahedan and set up checkpoints.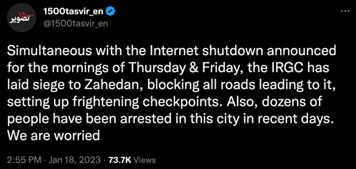 A memorial in Dehgolan, Kurdistan province was held for Shademan Ahmadi, 40 days after he died under reported torture in detention by Islamic Republic agents. Mourners shouted "Martyrs don't die!"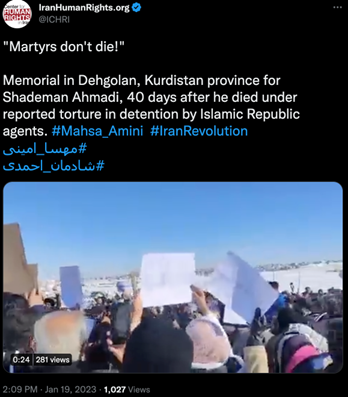 Southern Regional Oil Company workers went on strike.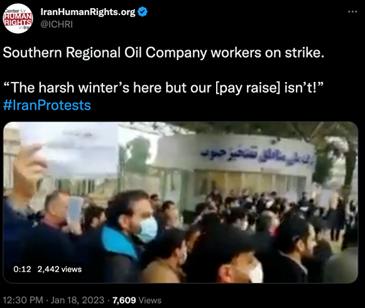 Ebrahim Naroui was arrested on Oct. 3, 2022. After weeks of torture, he was sentenced to death for "Waging war against God" by Zahedan Islamic Revolution Court, which told his relatives he will be executed immediately after the "Supreme Court" affirms the sentence.