Eye on Iran's Protests - December 6, 2022
December 6, 2022
The revolutionary movement in Iran continues as defiant protestors hold firm to the conviction that change is possible despite the beatings, rape, torture, and murder carried out by the regime. To support this movement, governments should synchronize human rights sanctions, downgrade diplomatic relations with Iran, and push for the reimposition of the U.N. sanctions that were lifted under the 2015 nuclear deal. UANI offers a comprehensive database that offers a path forward for harmonizing human rights designations against Iranian individuals and entities across the U.S., Europe, Great Britain, and Canada.
Iran Protests: BBC Identifies Many More People Killed In Demonstrations After Mahsa Amini's Death | BBC
The BBC has verified the identities of over 75 people killed since the start of the Mahsa Amini protest movement by combing through death certificates, images of funerals, and photos of the deceased. Reporters cross-checked their findings against interviews with family members, activists, and human rights groups. They concluded that many of the deaths came from minority communities. 32 people from Kurdish areas, and 20 people from Sistan-Baluchistan were confirmed dead. The provincial capital of Sistan-Baluchsitan, Zahedan, was the site of a massacre in late September that reportedly claimed the lives of over 90 people.
Shops closed in the typically bustling bazaar in Isfahan amid a planned 3-day strike.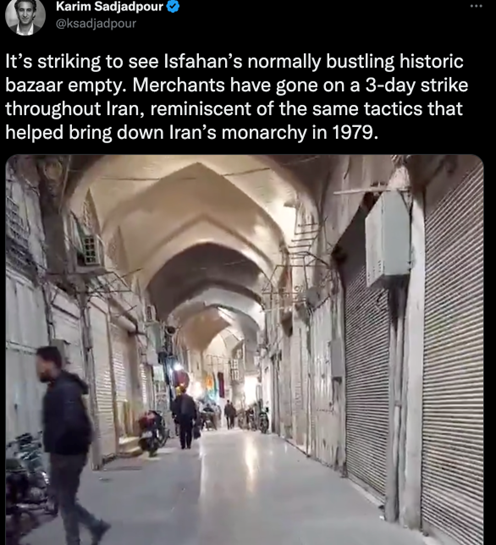 Iran: Mass Strike Starts Amid Mixed Messages About Abolishing Morality Police | The Guardian 
Iranian shopkeepers and drivers staged a strike across nearly 40 cities in Iran. Iranian papers reported increased hijab patrols, especially in religious cities, despite Iran's attorney general saying on Sunday that the "Morality Police" had been abolished—a claim that the government of Iran has not confirmed. Some analysts believe that this statement was an attempt to divide the opposition, which has called not only for the end of the hijab mandate but the end of the Islamic Republic. Meanwhile, Iranian President Ebrahim Raisi and the hardline Speaker of Parliament Mohammad Qalibaf plan on visiting universities in Tehran tomorrow, National Student's Day, reportedly to debate reforms with striking students.  
Israeli Intelligence Chiefs See Tehran Surviving Protests, For Now | Reuters 
Brigadier General Amir Saar, head of Israel's military intelligence, said that the reasons for the Mahsa Amini protests will remain and create problems for the Islamic Republic for years to come, even if the regime is able to weather them for now. "Seen long-term, it would appear this regime will not survive," he said.
Chants of "Death to Khamenei" resounded through the streets of Chitgar, Tehran.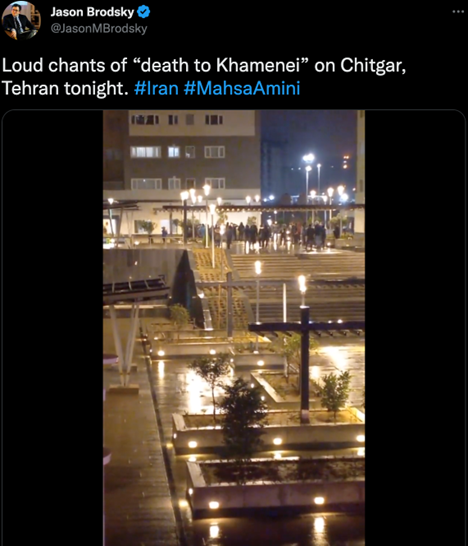 Iran's Vice President for Women Affairs Ensieh Khazali has canceled her speech that was planned for tomorrow at Tehran's Amirkabir University, after she was told that her security could not be guaranteed.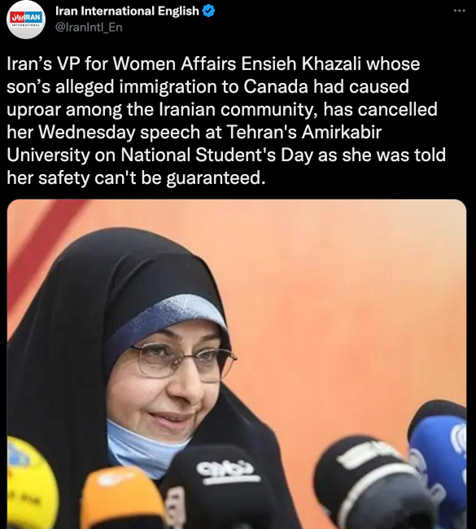 Killing Cover-Up: Family Of Dead Teenage Protester Say Didn't Commit Suicide | Iran Wire 
The family of Iliad Rahmanipour, a 17-year-old boy who disappeared at the end of November and was recently found with pills littered around his deceased body, contend that Iliad never showed any indications of suicidal ideation, nor did he drink alcohol or consume pills. He was a protester, whose death fits into a pattern of deaths that Iran's security forces seem to be trying to cover up by staging them as suicides. In early to mid-November, several reports emerged of young people allegedly jumping off buildings to take their own lives.
Shops were shuttered in Kerman, along with Tehran, Arak, Sanandaj, Bojnurd, Shiraz, and Marvdasht, in support of Iran's revolutionaries.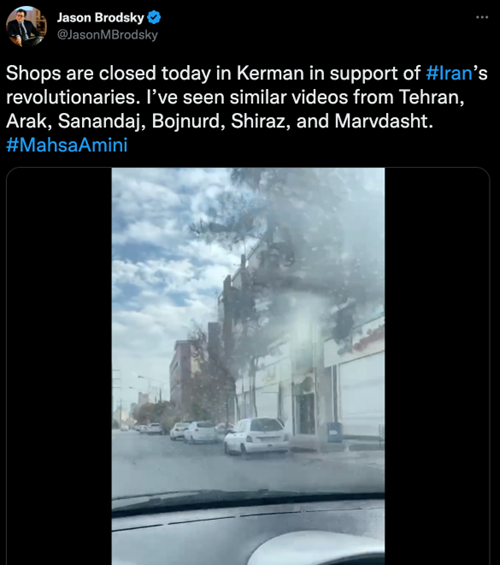 U.S. Says No Sign Iran Is Improving Treatment Of Women After Morality Police Said Ended | Agence France-Presse 
The U.S. State Department said yesterday that women are being treated in the same way as they were prior to Iran's attorney general's statement that the "Morality Police" had been abolished. The attorney general has no authority over the "Morality Police." 
Iran Arrests Deputy Editor Of The IRGC-Linked News Agency After Reported Cyberattack | Al Arabiya 
The deputy chief editor of the IRGC-run Fars news agency was arrested, allegedly for his involvement in a cyberattack, claimed by hackers that go by the name of "Black Reward." The group said that they obtained droves of confidential information from the hack, which the Fars news agency reported on November 26. 
Receive Iran News in Your Inbox.
Eye on Iran is a news summary from United Against Nuclear Iran (UANI), a section 501(c)(3) organization. Eye on Iran is available to subscribers on a daily basis or weekly basis.