The revolutionary movement in Iran continues as defiant protestors hold firm to the conviction that change is possible despite the beatings, rape, torture, and murder carried out by the regime. To support this movement, governments should synchronize human rights sanctions, downgrade diplomatic relations with Iran, and push for the reimposition of the U.N. sanctions that were lifted under the 2015 nuclear deal. UANI offers a comprehensive database that offers a path forward for harmonizing human rights designations against Iranian individuals and entities across the U.S., Europe, Great Britain, and Canada.
Minors In Iran Could Face Death Penalty On Protest-Related Charges | Washington Post 
Three protesters charged with killing a police officer in the protests face the death penalty. A researcher at Amnesty International referred to the trials, taking place in Iran's Islamic Revolutionary Courts, as shams used to instill fear in the population.
Demonstrators in Zahedan called out the regime's abuses against children: "We don't want a child-killing government," they shouted.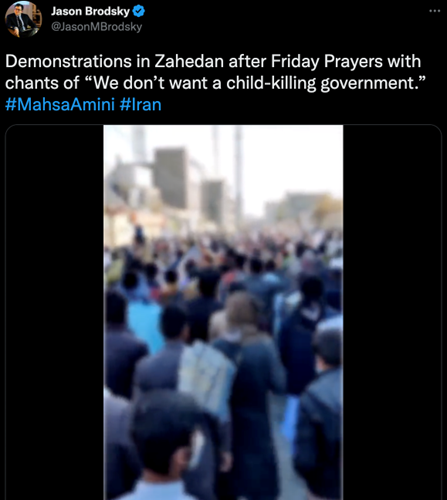 Joint Statement Following The Meeting Between President Biden And President Macron | The White House 
A joint statement by President Biden and President Macron following the latter's visit to the White House praised the bravery of Iranian protesters, but fell short of calling the movement a revolution, as Macron did last week after his meeting with anti-Islamic Republic journalist and activist Masih Alinejad in Paris. A clear and strongly-worded statement from President Biden in support of the Iranian protest movement has not been released to date. (Alinejad, a U.S. citizen, targeted in her Brooklyn home by the Islamic Republic in August, now lives in an FBI safehouse).
A young lady named Mina Yaghoubi was temporarily released from prison. Severe bruising under her eyes indicates the brutality she must have endured while imprisoned.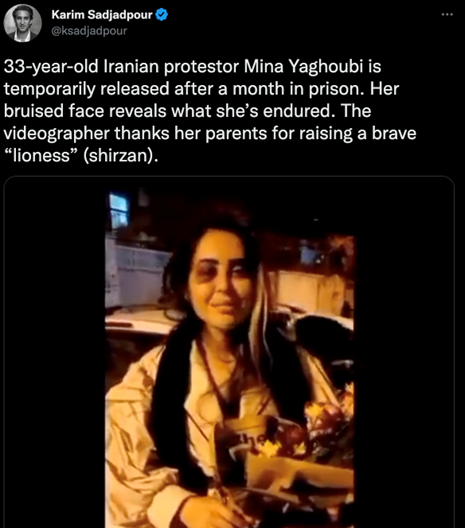 Canada Imposes Additional Sanctions On The Iranian Regime | Government Of Canada 
On December 2, 2022, Canada levied another round of sanctions against individuals and entities in the Islamic Republic, for their abuses of human rights, including top-ranking officials in the IRGC, a subsidiary of the IRGC's Cooperative Foundation, a prosecutor, and media agency.
Only 300 of the 1,000 retired IRGC members called upon agreed to help quell the protests.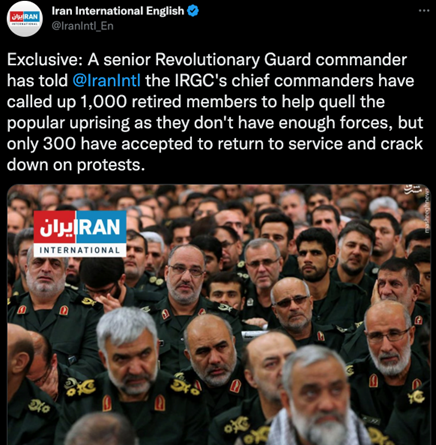 After a large number of university students fell ill in recent days, students accused authorities of deliberately poisoning them.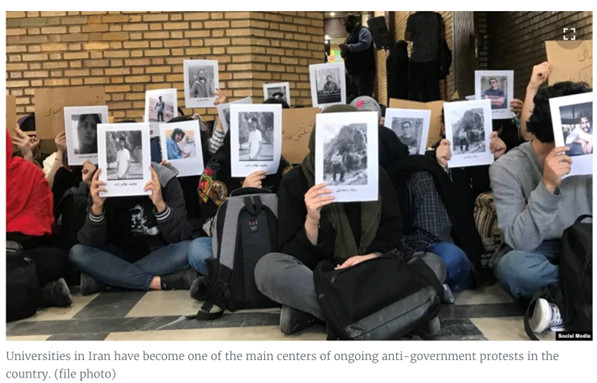 Theater actors in Bandar Abbas produced anti-regime propaganda, filming themselves in defiance of the regime's hijab mandate.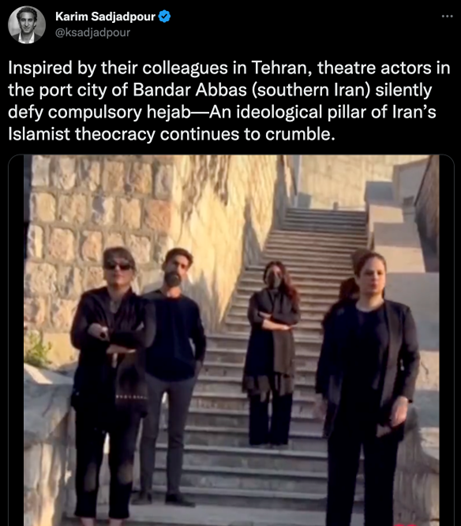 Iran Protesters Call For Three-Day Strike From Monday | Reuters 
Today, protesters in Iran called for a three-day strike and sustained protests ahead of Student Day on Wednesday, when President Raisi is scheduled to visit the University of Tehran. In addition to the strike, protesters are calling for the movement to converge on Tehran's Azadi (Freedom) Square. Such calls have a record of successfully motivating economic boycotts, strikes, and large mobilization of protesters, according to this reporting by Reuters. 
Iran Protesters Call For Strike, Prosecutor Says Morality Police Shut Down | Reuters 
Some media organizations are overhyping an Iranian public prosecutor's claim that the "Morality Police" was shut down. Those who believe that this statement, which comes from an individual with no authority over the Morality Police, represents success for the protest movement are forgetting (or failing to acknowledge) that many of the protesters are not merely seeking reform within the system—that has been tried in the past and failed. 
Iranian Rock Climber Elnaz Rekabi's Family Home "Destroyed" Per Reports | Fox News
The professional Iranian climber, who famously competed without her hijab in South Korea, reportedly had her house "destroyed." Iran Wire reported that her house was demolished. 
IRGC, Basij Members Personal Information Leaked Online By Protesters – Exclusive | Jerusalem Post 
Protesters leaked the personal information of IRGC and Basij members. Tech-savvy dissidents have been using a shadow realm within the internet, known as Darknet, to fight back against the individuals oppressing them. Since the start of the protests, Darknet has been adopting sophisticated means to track and retaliate against the regime's enforcers.
Hillary Clinton said to CNN that "you can't premise a theocracy on covering up women's hair. That doesn't mean we are going to overthrow the regime." This statement misreads a fundamental protest demand for regime change.