July 2023 Iran Tanker Tracker
The Iran Oil Show, once an authentically global gathering of multinational companies, is today a stark reflection of Tehran's mounting reliance on just two countries: Russia and China. The official handbook at this year's show – obtained by UANI in Tehran – lists barely a handful of non-Russian or non-Chinese foreign attendees. The slump is also indicative of Iran's self-inflicted isolation from the community of responsible nations.  Over the past 18 months, Tehran's brutalization of its own citizens and provision of hundreds of kamikaze drones to Putin's war machine in Ukraine have not gone unnoticed among European and East Asian energy companies that normally comprise a big slice at the Iran Oil Show.  Even the idea of simply attending a conference is evidently too great a reputational risk for former participants.
Of course, Iran added its own rose-colored spin to what Oil Minister Javad Owji described as "the biggest exhibition in West Asia and the world." On the sidelines of the show, Oil Ministry spokesman Ali Forouzandeh claimed that the foreign contingent was double compared to last year but glossed over the fact that European, Japanese, and Korean firms completely snubbed Iran's premier international conference.  Absent Chinese and particularly Russian (and Belarussian) firms, the 2023 Iran Oil Show hosted a grand total of three, possibly four, foreign attendees (UANI has already received confirmation from one advertised participant that it did not in fact attend).  During July, UANI wrote to attendees – including the big Russian contingent – warning of the still significant risks of Iranian conference participation.
Yet despite the conscious distancing by European, Korean, and Japanese businesses, Iran still consistently manages to export more than one million barrels of oil every day.  In fact, exports have increased in spite of the narrowing of investors, partners, and markets.  It is China's unwavering demand for Iranian crude that remains the key constant and critical lifeline for Iran's oil exports, as July again showed.
| | | | |
| --- | --- | --- | --- |
| Country of Destination | July 2023 - Barrels Per Day (bpd)* | June 2023 - Barrels Per Day (bpd)* | May 2023 - Barrels Per Day (bpd)* |
| China | 1,384,546 | 1,016,006 | 1,380,875 |
| Syria | 80,328 | 58,100 | 131,325 |
| UAE | 0 | 105,675 | 69,216 |
| Indonesia | 0 | 0 | 36,872 |
| Unknown | 29,831 | 66,667 | 0 |
| Total | 1,493,743 | 1,245,448 | 1,618,228 |
* Figures to be updated over the following weeks
Despite Iran's increasing oil exports and its efforts to navigate sanctions, some maritime industry players are taking responsible and swift action against vessels involved in violating these sanctions. For example, on July 11, 2023, UANI informed the Kiribati Ship Registry that the vessel SINCERE (IMO: 9226011), was suspected of loading gasoil at Bandar Mahshahr, Iran. Within 24 hours, the Kiribati Ship Registry replied to UANI, agreeing with the information provided and immediately de-registering the vessel due to violations of U.S. sanctions.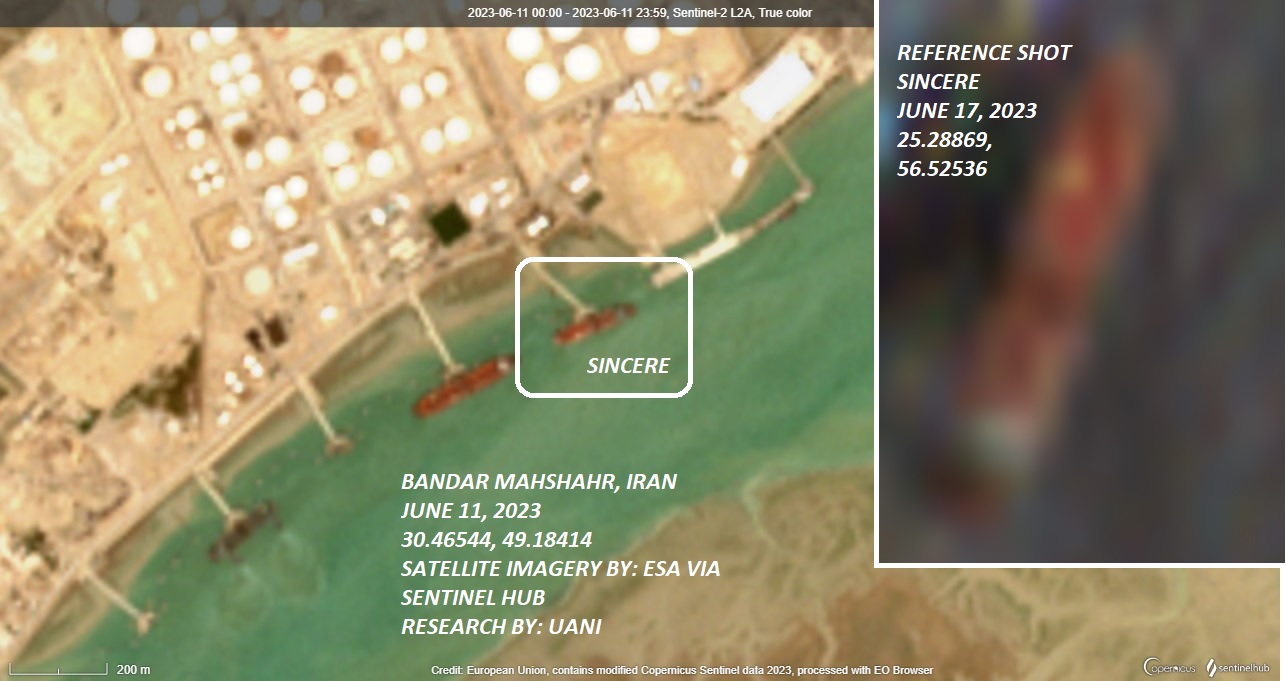 Similarly, on July 17, 2023, UANI informed the London P&I Club that the Panamian-flagged vessel KASPER (IMO: 9293143) was suspected of loading crude oil from the SDN-listed Iranian tanker DORE (IMO: 9357717) in the Persian Gulf. Again, within 24 hours, the London P&I Club confirmed UANI's findings and terminated the entry for KASPER.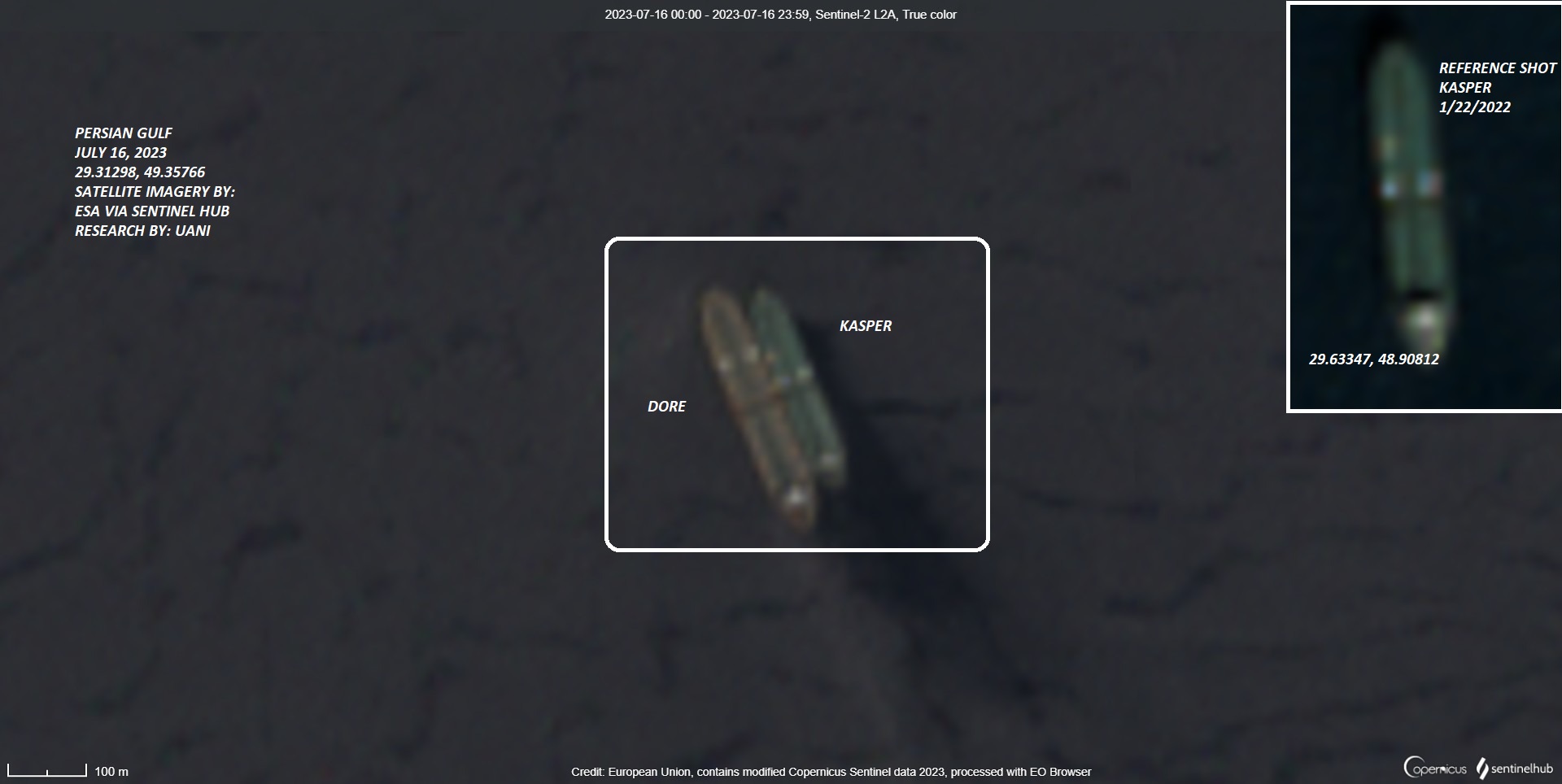 On the other hand, the Panama Maritime Authority's (AMP) lack of action continues. Despite evidence supplied by UANI on over 55 occasions, vessels under the Panamanian flag continue to be involved in transporting sanctioned Iranian oil. This inaction raises questions about Panama's commitment to efforts in curbing Iran's sanctioned oil trade and highlights the need for stronger enforcement mechanisms within the maritime industry.
To maintain the integrity of the global maritime sector and strengthen efforts to combat sanctions violations, it is essential for responsible stakeholders to continue diligent action against vessels engaged in illicit activities. Additionally, international organizations, such as the International Maritime Organization (IMO) – which recently saw fit to reward AMP with the Presidency - must reevaluate their leadership selection process to ensure that countries actively cooperating with sanction enforcement are given precedence over those that are not.  A united and responsible approach within the maritime industry is crucial in curbing Iran's attempts to bypass sanctions and ensuring a more stable and secure global economic environment
Receive Iran News in Your Inbox.
Eye on Iran is a news summary from United Against Nuclear Iran (UANI), a section 501(c)(3) organization. Eye on Iran is available to subscribers on a daily basis or weekly basis.