The Islamic Revolutionary Guard Corps' Intelligence Organization in Transition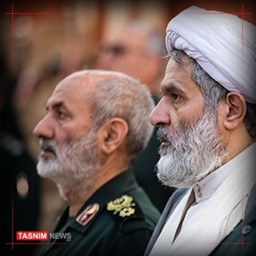 There is one man in the Iranian system who had a great deal to lose amid the multiple mysterious assassinations and explosions gripping the country. The now former head of the Islamic Revolutionary Guard Corps' Intelligence Organization (IRGC-IO) Hossein Taeb has operated in the shadows. A longtime favored disciple of Iran's Supreme Leader Ayatollah Ali Khamenei, Taeb has been a fearsome player in the security establishment. The fact that the Israeli government publicly implicated Taeb as frantically plotting against its tourists in Turkey as the Iranian leadership considered whether to replace him signaled more than just the growing foreign threat that the IRGC-IO poses. It was a hint of trouble in the ranks in Tehran.
Who is Hossein Taeb?
Early Years and Path to Power
Taeb was born in 1963 in Tehran. He received his clerical education in Tehran, Qom, and Mashhad, having been Khamenei's student at the dawn of the Islamic Revolution in 1979. Taeb thereafter joined the IRGC in 1982 as the Iran-Iraq War raged. One of his brothers, Hossein, was killed in battle. It was during this time that Taeb developed important relationships as he served in the Habib Battalion alongside Khamenei's son Mojtaba. These contacts would power his rise in later years.
Taeb soon found himself as the head of counter-intelligence at the Ministry of Intelligence and Security (MOIS). During the presidential administration of Akbar Hashemi Rafsanjani, Taeb was pushed out of MOIS for machinations triggering internal strife among officials as well as reportedly falsifying cases against Rafsanjani's children. Nevertheless, Khamenei protected Taeb, and found a landing spot for him in the Office of the Supreme Leader as a deputy coordinator. This shows how Taeb capitalized on Khamenei being his teacher and Mojtaba being an associate as an insurance policy for a controversial career. He was also operating at the center of a very politically fraught and sensitive inter-personal dynamic between Khamenei and Rafsanjani, as Khamenei sought to secure his position in the early years of his supreme leadership despite owing his career, in part, to Rafsanjani, who vouched for him at the Assembly of Experts, which anointed Khamenei as Ruhollah Khomeini's successor.
Taeb held his position in the Office of the Supreme Leader during the presidency of Mohammad Khatami, where he was at the forefront of a crackdown spearheaded by Iran's deep state, embodied by Khamenei's network, on Khatami's reformist allies. During this time period, Taeb was implicated in the case of a Helmut Hofer, a German businessman, who was reportedly taken hostage with his girlfriend while on a trip to Tehran in September 1997. The tale became more sordid when, according to an audio tape that later surfaced which was transcribed by Iran Wire, Reza Golpour, the former editor of Ammarion, who was arrested in 2016 and sentenced to prison, alleged that Taeb's father-in-law Ali Akbar Mousavi Hosseini was framed by German authorities in a compromising situation with a woman in Germany in response to the Hofer case to put pressure on Tehran to release him.
During the Khatami presidency, Taeb also tended to his roots as a guardsman and became the head of the cultural department of the IRGC's Imam Hossein University. In the 2005 presidential election, Taeb was involved in Mojtaba Khamenei's early support for the candidacy of future Speaker of Parliament Mohammad Bagher Ghalibaf before switching to Mahmoud Ahmadinejad, who eventually won.
The Basij and the 2009 Election Unrest
Later, Taeb occupied roles as cultural deputy of the IRGC's Joint Staff, deputy commander of the Basij, and eventually commander of the Basij. Taeb was elevated as commander in July 2008 to thwart cultural infiltration. But he was soon tested during the unrest after the disputed reelection of Mahmoud Ahmadinejad as president in 2009. The U.S. Treasury Department, along with the European Union, sanctioned Taeb for his role at the time, saying, "forces under Taeb's command participated in beatings, murder, and arbitrary arrests and detentions of peaceful protestors." Some inside the regime were cognizant of this brutality as then Intelligence Minister Gholamhossein Mohseni-Ejei allegedly reported to Iran's supreme leader, without Ahmadinejad's knowledge, that Taeb was a security risk because of unspecified crimes he committed against prisoners following the election. Soon after the election, Mohseni-Ejei left his post. Ahmadinejad, after he left office, accused Taeb of being "psychologically imbalanced." He also said he opposed his appointment as head of the IRGC-IO because he would foment conflict between the government and other state institutions.
Following the electoral unrest, in October 2009, Iran's supreme leader instituted structural reforms to the IRGC—with the Basij being officially absorbed in the IRGC and more integrated into its Ground Forces. As scholar Ali Alfoneh noted at the time, the Basij encountered difficulties in thwarting the protests after Ahmadinejad's disputed reelection, particularly in urban areas, but had greater success in the provincial areas. Perhaps in a sign of disaffection, Taeb, despite only serving a short stint as Basij commander, was replaced with Mohammad Reza Naghdi. Taeb's relatively brief tenure contrasted with his predecessor, Mohammad Hejazi, who served for around nine years in the role, but other commanders of the Basij served abbreviated periods as well. Taeb differed from Hejazi in that the latter came to the Basij with a more significant military background, whereas Taeb was steeped in the intelligence services. Taeb overlapped in some qualities with Naghdi in that the latter headed the Iranian police's counter-intelligence service prior to his elevation as commander of the Basij. But Naghdi, unlike Taeb, also had more significant military experience as a commander of the Badr Brigade and fighting in Bosnia.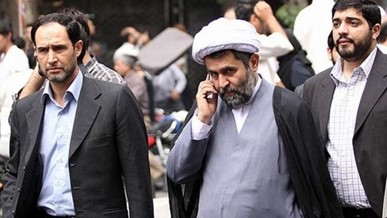 The IRGC's Intelligence Organization
Taeb, despite the problems the Basij encountered during the electoral unrest, still managed to land a coveted slot as head of the IRGC's newly formed Intelligence Organization—likely once again owing to his personal connection to Iran's supreme leader and his son Mojtaba. This is a familiar theme in Taeb's career—notwithstanding controversy and setbacks—Khamenei always managed to take care of him and ensure he remained a part of the Iranian system.
The IRGC's intelligence branch was given a more formal and powerful structure and refashioned into a standing Intelligence Organization, and Khamenei placed Taeb at the helm in a move to solidify his control over the Iranian intelligence community after a period that shook the foundations of the Islamic Republic. Unlike the Ministry of Intelligence and Security (MOIS), whose minister also nominally reports to the president, the IRGC's Intelligence Organization would be under the direct and sole control of the Office of the Supreme Leader. Taeb, having experience at MOIS and Khamenei's office, would therefore bring considerable authority to his new role. One Iranian news outlet, the Iranian Labor News Agency (ILNA) speculated that Taeb had been selected as the inaugural head of the IRGC's Intelligence Organization due to his skills "in light of the enemy's focus on the soft warfare and the promotion of the IRGC's intelligence division to an Intelligence Organization led by Taeb, who is familiar with various kinds of intelligence and soft warfare…will bestow new responsibilities on the new organization."
During Taeb's tenure at the IRGC-IO, he focused much of his work on thwarting Western infiltration all while Hassan Rouhani, when he assumed the presidency in 2013, was seen as trying to curb the excesses of the IRGC. He warned ahead of the 2020 parliamentary elections that "the enemy is doing networking within the country's political sphere in an attempt to infiltrate the political system." In this regard, Taeb's IRGC-IO targeted Rouhani's administration. For example, Rouhani's then Vice President for Women and Family Affairs Shahindokht Molaverdi invited Lebanese citizen and U.S. permanent resident Nizar Zakka to a conference in September 2015. But despite his invitation from the government, Zakka was arrested by the IRGC-IO and was held hostage for around four years. The IRGC-IO later, in January 2022, also targeted Rouhani's own brother Hossein Fereydoun, alleging a bribery scheme. Fereydoun had played a role as Rouhani's special representative during the original Iran nuclear negotiations in 2013-2015, and these charges can be seen as evidence of the IRGC-IO's paranoia over Rouhani and his associates, with Western connections, as they negotiated with world powers, fearing "infiltration."
Taeb has been at the center of protecting allies and manipulating adversaries in the Islamic Republic. The former head of the Islamic Republic of Iran Broadcasting (IRIB) Mohammad Sarafraz accused Taeb and Khamenei's son Mojtaba of colluding to thwart reforms he wanted to institute by issuing fraudulent tenders for different projects, like a data center. Taeb's close relationship with Mojtaba manifested itself in this episode when Sarafraz eventually left his post and recounted that he said to Taeb, "I thank you, and since I may not be able to see the gentleman for himself, on my behalf, please thank Mr. Haj Agha Mojtaba, because you prepared the ground for me to leave the IRIB, to my relief." Taeb did not deny the charge, according to Sarafraz, but then asked him "Well, what do you want to do next?"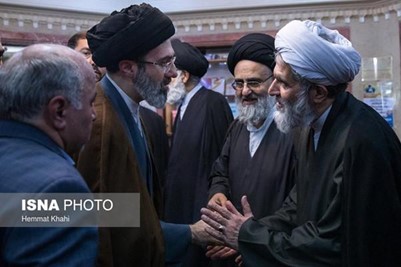 In a leaked audio conversation between the former commander-in-chief of the IRGC Mohammad Ali Jafari and one of his deputies which surfaced this year, they implicate Taeb in helping to cover up embezzlement of around $3 billion during Speaker of Parliament Mohammad Bagher Ghalibaf's tenure as mayor of Tehran between the municipality and Yas Holdings, which was controlled by the IRGC. Ghalibaf had proposed generating false invoices to mask the corruption—Iran's supreme leader had ordered a certain percentage of profits from Yas Holdings be directed to the Quds Force—but despite this proposed financial crime, Taeb and Mojtaba Khamenei allegedly supported Ghalibaf.
The IRGC-IO has become an entity over which Mojtaba Khamenei wields great influence. This can be seen in not only Taeb's alliance with Mojtaba dating back years to their service in the Habib Battalion, but also with Taeb's deputies being alumni of that brigade. Hossein Nejat was installed as Taeb's deputy in 2016. Nejat, who also served in the Habib Battalion during the Iran-Iraq War, previously commanded the IRGC's Vali Amr Unit, which provides personal security to the supreme leader. Nejat eventually left the role in 2019 to become the IRGC's deputy commander for cultural and social affairs and eventually decamped to the Sarallah Headquarters. Hassan Mohaghegh replaced Nejat as Taeb's deputy. Like Mojtaba, Taeb, and Nejat, Mohaghegh also hailed from the Habib Battalion. He was injured, and uses two canes to this day. Before ascending to the deputyship of the IRGC-IO, Mohaghegh was chief of staff of the IRGC's 27th Division and then later became the head of the IRGC's strategic intelligence division. In May 2019, the IRGC-IO received another boost in stature when it merged with the IRGC's strategic intelligence division, with Mohaghegh becoming Taeb's deputy.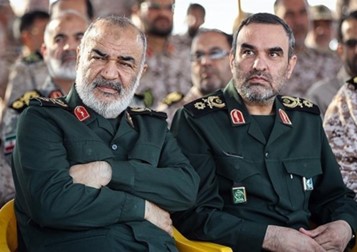 While Taeb has become notorious for his domestic repression and political gamesmanship, the IRGC-IO's foreign footprint had been less prominent until recently. But when Taeb was sanctioned by the European Union in 2011, it was for involvement "in providing equipment and support to help the Syrian regime suppress protests in Syria." After Hossein Salami became the commander-in-chief of the IRGC in May 2019, he signaled a desire for the IRGC-IO to become involved in the entirety of the threat geography that the Islamic Republic faces—which was interpreted to mean an expansion of its mission set beyond Iran's borders. This ambition can be seen in the complex operation which resulted in the luring of dissident journalist Ruhollah Zam from exile in Paris to Iraq, where he was kidnapped and taken back to Iran and later killed. In July 2021, Taeb thereafter made a rare trip to Iraq—undertaking an assignment that was usually reserved for the Quds Force commander—where he liaised with Iraqi militias and encouraged them to increase attacks on U.S. forces. Later, Taeb was implicated as spearheading the drive to retaliate against Israel for its reported assassinations of Iranian IRGC officers and defense sector specialists, involved in the regime's missile and drone programs. Israeli media reports depicted him as being under intense pressure to do so. This is likely because of multiple counter-intelligence failures, particularly the deaths of the former Quds Force Commander Qassem Soleimani, the father of Iran's past nuclear weapons program Mohsen Fakhrizadeh, the late Deputy Commander of the Quds Force's Unit 840 Hassan Sayyad Khodaei, and several sabotage attacks against Iranian nuclear, missile, and drone facilities. It also may have been personal for Taeb, as audio tapes, summarized by Iran Wire, alleged that the son of Ahmad Motevaselian, whom Iran accuses Israel of capturing in the 1980s, is married to Taeb's daughter Zeinab.
Replaced
The longevity of Taeb's career at the IRGC-IO, coupled with these setbacks, likely precipitated the decision to replace him in June 2022 with Mohammad Kazemi, who was previously the longtime commander of the IRGC's Intelligence Protection Organization, which was founded in 1983 and focuses on counter-intelligence and security within the ranks of the IRGC. Nevertheless, Kazemi, who has kept a very low profile through the years, represents a change as he is not a cleric, in contrast with Taeb, and comes from outside the Intelligence Organization as the Intelligence Protection Organization has been a separate, standing subunit within the IRGC hierarchy. This likely indicates an attempt to tighten the operations of the IRGC-IO through a player, Kazemi, who has had an inward IRGC-centric focus at the Intelligence Protection Organization. But this still raises questions as to Kazemi's own personal effectiveness as he too was at the helm of the Intelligence Protection Organization alongside Taeb at IRGC-IO all while Soleimani, Fakhrizadeh, Khodaei, and others were killed. The IRGC's Ansar Al-Mahdi Protection Unit, which provides bodyguards to senior Iranian officials like Fakhrizadeh, still experienced great breaches all while Kazemi was in his post focusing on security among guardsmen. Also unclear is the future leadership of the IRGC's Intelligence Protection Organization and its structural relationship with the IRGC-IO moving forward given Kazemi's time there. The IRGC-IO has undergone mergers before—for example with the strategic intelligence division—with other IRGC entities. But Khamenei may still prefer to keep it as a separate organization.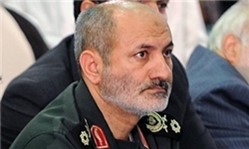 Mojtaba Khamenei himself, who is considered by some observers to be a potential candidate for the supreme leadership, will still retain significant institutional sway in the IRGC-IO. After all, he and Mohaghegh, who is still deputy head of the IRGC-IO, served in the Habib Battalion as well.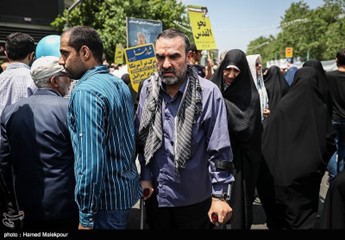 Taeb's future remains in question as he was merely named as an advisor to the commander-in-chief of the IRGC. This appears at first glance like a comedown, at least in the short-term, for him given his central role manipulating, meddling, and repressing Iranian officials and society, not to mention his powerful relationships with Iran's supreme leader and his son Mojtaba.
Onetime commanders of IRGC subunits have also gone on to become advisors to the commander-in-chief of the IRGC. Saeed Mohammad, the former head of the IRGC's Khatam al-Anbiya Construction Headquarters, after a short tenure there where he was seen as harboring presidential ambitions, was removed from his position—with rumors about unspecified violations—and became an advisor to Salami, like Taeb. Later, Mohammad became the secretary of the Free and Special Economic Zones, a decidedly less powerful post.
But it is still too early to write the regime obituary for Taeb given his relationship with the Khamenei family and how they have managed to promote him through the ranks despite his repeated controversies and fearsome reputation. He may be too valuable for the Khameneis to completely cast aside. Already, there is speculation in the Iranian media of a significant new strategic and special post for Taeb, citing his recent foreign travel. Taeb's rare trip to Iraq last year could be a sign of an expanded mission set for him.
In the end, Taeb has survived and thrived in Tehran for such a long period of time given his ruthlessness and relationships. His departure from the IRGC-IO represents an earthquake in the Iranian intelligence community given the longevity of his career there—being the inaugural head of the IRGC-IO, and presiding over it under three presidents—Ahmadinejad, Rouhani, and Raisi—and in the aftermath of the 2009 Green Movement protests; through the Iran nuclear deal; and in the first year of Raisi's presidency. But what this means for Taeb's personal stock in Tehran's corridors of powers will be decided in the weeks and months ahead.
Jason M. Brodsky is the policy director of United Against Nuclear Iran (UANI). His research focuses on Iranian leadership dynamics, the IRGC, and Iran's proxy and partner network. He is on Twitter @JasonMBrodsky.