Export of Iran's Drone Program to Tajikistan and Russia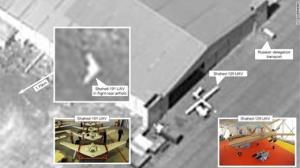 In May 2022, Iran inaugurated a drone factory in Tajikistan. Located in Dushanbe, the manufacturing facility is slated to produce the Ababil 2 drone. Despite long provision of drones to its proxies and partners and the requisite technical know-how, the facility represented the first formal military drone production line Iran has employed abroad. In July 2022, in the aftermath of Russia's invasion of Ukraine, the U.S. National Security Advisor Jake Sullivan revealed that "our information indicates that the Iranian government is preparing to provide Russia with up to several hundred UAVs, including weapons capable UAVs on an expedited timeline." Some reports indicate that the Kremlin is scheduled to provide as many as 300 UAVs.
The U.S. government later revealed that a Russian delegation on June 8, 2022 and July 5, 2022 viewed a showcase of Iranian drones at the Kashan Airbase—specifically the Shahed-129 and Shahed-191, models which this report discusses in previous sections. The Shahed-129 has been used by the Iran-backed Houthis in Yemen, according to the Arab Coalition, and a U.S. F-15 fighter jet downed the Shahed-129 after it fired on U.S.-led Coalition forces in southern Syria in 2017. Israel's defense minister has also accused the Kashan Airbase of serving as a drone training ground for the IRGC's proxies and partners like Hezbollah and the Houthis.
Russian losses in Ukraine likely inspired these transfers, but Moscow has long had its eye on Iran's drone program, with the director of Iran's Aviation Industries Organization claiming back in 2019 that Russia had expressed interest in purchasing Iranian drones. The expiration of the U.N. arms embargo on Iran under U.N. Security Council Resolution 2231 likely emboldened these developments in helping to provide Tajikistan and Russia with legal cover for these moves.