Time to Short the Iran Conference Circuit

Last month, the U.S. Treasury sanctioned a company in Iran called New Horizons.
New Horizons isn't an oil exporter, industrial firm, or arms trader. It doesn't covertly procure weapons or uranium. Nor is it interested in telecoms surveillance, tunnel-boring machines, or turbines – or any of the products required to maintain Iran's theocratic police state and advance its nuclear capabilities.
No, New Horizons organizes conferences -- a benign activity at first blush. But this is Iran, and like big chunks of its economy, even ostensibly innocent activities are infected by a toxic virus: the Islamic Revolutionary Guards Corps (IRGC). And because the IRGC is ferociously committed by any means to preserve and expand the Islamic revolution – whether by brutal suppression of internal dissent or by exporting terror – whatever the IRGC touches, it poisons.
New Horizons was sanctioned by the U.S. for "its support for the IRGC-QF," and because it "hosts international conferences that have provided Iranian intelligence officers a platform to recruit and collect intelligence information from attendees…"
The IRGC-QF is the foreign arm of the IRGC responsible for, among other condemnable acts, supporting terrorist groups around the Middle East. It is intimately tied to Iranian intelligence, formally led by the Ministry of Intelligence Services (MOIS), which orchestrates assassinations and bombing attacks against Iranian dissidents on European soil.
In other words, if you're attending or exhibiting at a conference either in Iran or in Europe featuring Iranian companies, there's a high probability you will be scouted for possible intelligence value or even recruitment by one of the two most ruthlessly despicable agencies serving the Iranian regime.
Since the moment the ink dried on the Iran Nuclear Deal (JCPOA) in July 2015 – a moment that carried a wave of optimism about normalized business relations with the Islamic Republic and an accompanying flood of Iran conferences – United Against Nuclear Iran (UANI) has been warning companies by the thousands to refrain from involvement in Iran-related conferences. Many companies accepted the advice and pulled out. Many vowed to refrain from future Iran conferences. Some withdrew sponsorship, while others stated they would not do business with Iran at all.
But many, many more simply ignored the warnings.
Euroturbine B.V., for instance, has been a repeat attendee at the Iran Oil Show held annually in Tehran, and was advertised as exhibiting at the 2016, 2017 and 2018 editions. UANI wrote to the Dutch company in May 2017, explaining that the Oil Show featured a glut of sanctioned IRGC-tied or -controlled entities, including the Iran Marine Industrial Company (SADRA), the National Iranian Oil Company (NIOC), the Industrial Development and Renovation Organization of Iran (IDRO), National Iranian Tanker Company (NITC), and the National Petrochemical Company (NPC). Euroturbine evidently ignored the counsel to "reconsider [its] decision to participate in future similar exhibitions" and attended the most recent 2018 show.
Perhaps Euroturbine should have paid closer attention.
On February 18 – five days after OFAC's designation of New Horizons – a Dutch Court found Euroturbine guilty of ignoring export control laws and illicitly exporting 'dual-use' products to Iran through front companies and some deceptive accounting. The court in Limburg fined Euroturbine $565,000.  Euroturbine will not likely be exhibiting again this year.
New Horizons is not the only conference organizer that begs for Treasury's scrutiny.  Pro-Iran trade conferences continue to be enabled by the help of European organisers. IMAG GmbH, for instance, one of the world's top trade fair organisers and one of the biggest exhibition companies in Germany, has helped organize multiple conferences in Iran.
In this photo, for instance, is IMAG Managing Director Peter Bergleiter cutting the ribbon at the IranConMin (International Exhibition of Mines, Mining, Construction Machinery and Related Industry & Equipment) in Tehran in November 2018: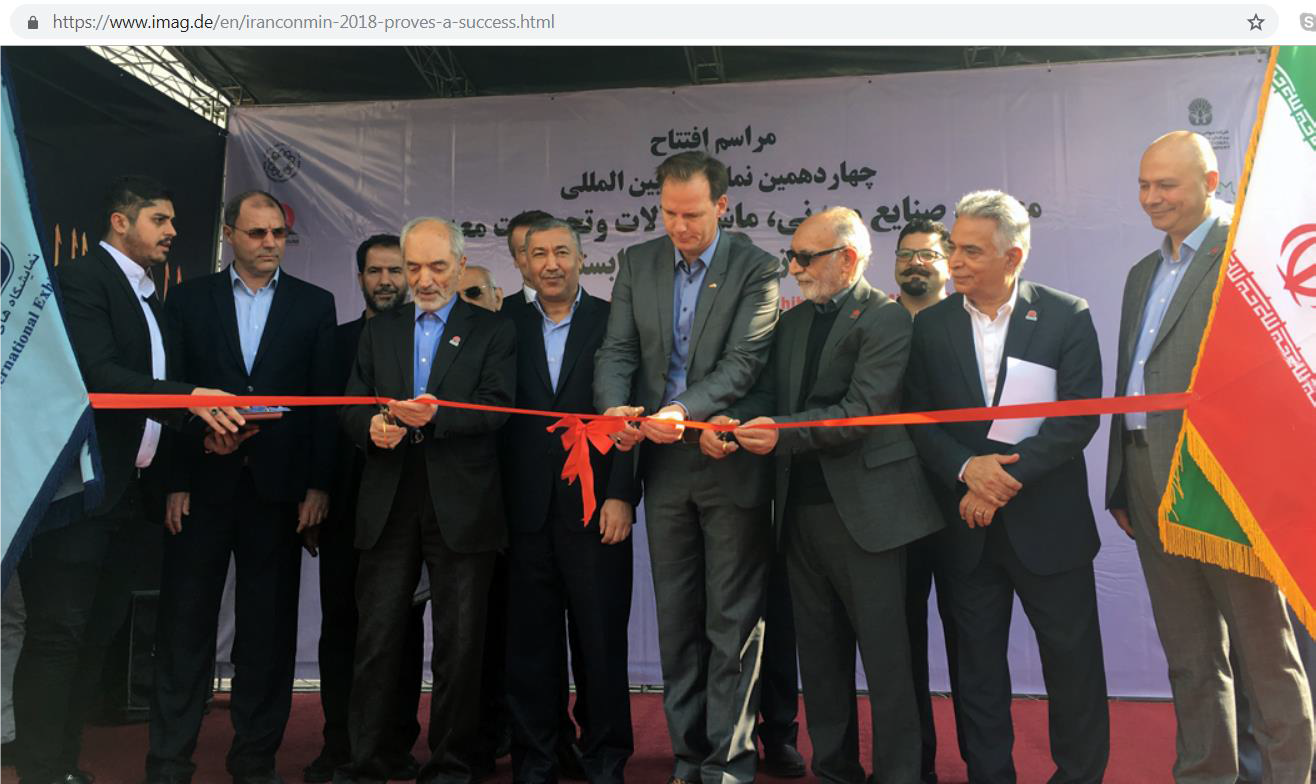 (Source: IMAG Website)
Iran ConMin featured a cavalcade of Treasury-designated companies, including IMIDRO, Mobarakeh Steel Company and Esfahan Steel Company. IMAG also helped organize IINEX (International Industry Exhibition), which spotlighted sanctioned companies like Iran Aviation Industries Organization, Paya Boresh. Another IMAG production, IAPEX (International Auto Parts Exhibition), featured OFAC-designated Mobarakeh Steel Company and IRGC-linked Sepahan Oil.
Despite the reimposition of sweeping sanctions in November 2018 targeting every major industry of the Iranian economy, IMAG plans to continue facilitating Iran trade conferences and will organize, coordinate, or carry out several upcoming conferences in Iran throughout 2019. These include the 2019 editions of Iran Logistics, the Iran Oil Show, Iran ConMin and IAPEX.
Incredibly, while helping the Iranian regime apply the glossiest sheen to its business climate and potentially exposing European companies (often with U.S. subsidiaries) to Iranian intelligence operations, IMAG also helps organize conferences in the United States. In March of 2020, for instance, IMAG is due to help organize Conexpo CON/AGG, "North America's largest construction trade show," held every three years in Nevada at the Las Vegas Convention Center.
While Treasury should consider seriously scrutinizing other conference organizers like IMAG, the message to all companies in the meantime should be crystal clear: do not risk any involvement in Iran conferences, whether in or outside of Iran. While the notion of merely attending a conference might seem innocuous to corporate compliance and legal departments, they evidently are not taking into account the shady and dangerous depths to which IRGC and MOIS agents will stoop.