The Europe-Iran Forum 2020: No Business As Usual?
Yesterday, the organizers of the Europe-Iran Business Forum scrapped their annual conference with 24 hours notice.
No explanation was provided, and none was needed.
Once Iran decided to go ahead with the execution of dissident journalist Ruhollah Zam the day before, the cancelations flooded in.
Top European dignitaries, including the EU Foreign Affairs Chief Josep Borrell, clearly got a whiff of which way the optics were blowing.
And the thought of being seen to encourage EU-Iran trade while Iran had just snuffed out the life of a journalist for absolutely nothing was too much to stomach.
The Ambassadors of Austria, France, Germany and Italy were all slated to appear on a panel titled 'economic diplomacy,' with the Guardian's Patrick Wintour moderating.
All, including Mr. Wintour, pulled out.
France issued the strongest condemnation, calling the killing 'brutal' and 'unacceptable, while Austria deigned to retweet an EU statement reiterating the bloc's 'irrevocable opposition to the use of capital punishment.' Germany, predictably, was more restrained, and merely cited 'current developments.'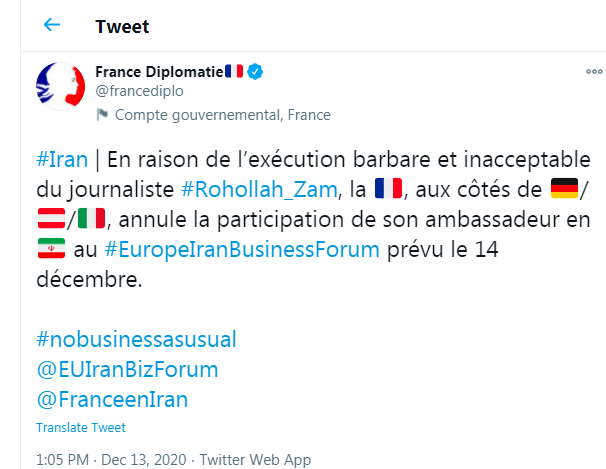 Still, it begs the question as to why they all agreed to attend in the first place.
Why were they happy to accept the invitation just three months after Iran executed the Olympic wrestler, Navid Akfarai, with a confession extracted under torture?
Notwithstanding their "irrevocable opposition" to the practice, was the EU ignorant of the fact that Iran is second only to China in terms of capital punishments?
During the first half of 2020 alone, Iran executed 136 people, including political prisoners, women and minors
Nor did the Europeans lodge any objections to Iran's equally disgraceful policy of 'hostage diplomacy,' as a result of which several European citizens are currently in Iranian prisons.
Among them, Dr. Ahmad Djalali, a Swedish-Iranian dual citizen and university academic, was due to be executed just one week ago on absurd charges of spying for Israel before a last-second stay.  His fate remains hugely precarious.
Clearly, it was just bad timing, rather than any invocation of moral courage, that did for the Europe-Iran Forum attendees.
Therefore any praise accorded to the invitees for taking a 'principled stand' here should be couched in the strongest of caveats.
For let us recall that the Europe-Iran Forum has been going on since 2014, every year, with a couple of pauses during the Trump 'maximum economic pressure' period. (See UANI's overview here). And in all that time, this is the first occasion in which any top-level EU officials have explicitly shown any willingness to insert serious human rights concerns into their so-called 'economic diplomacy' with Iran – the Europe-Iran Forum being the acme of this way of thinking.
Indeed, France has indicated this decision to rescind its attendance could herald a new direction: 'Not Business As Usual,' its diplomatic account tweeted.  This alludes to the idea that Europe-Iran trade or warmer ties must be more strongly predicated on Iran making fundamental behavioral changes on human rights.
Such a linkage would be welcome, of course, but if past performance is our guide, it seems highly unlikely.